Common expressions used by "Ba'ath Party" and so-called Islamic State in their rhetoric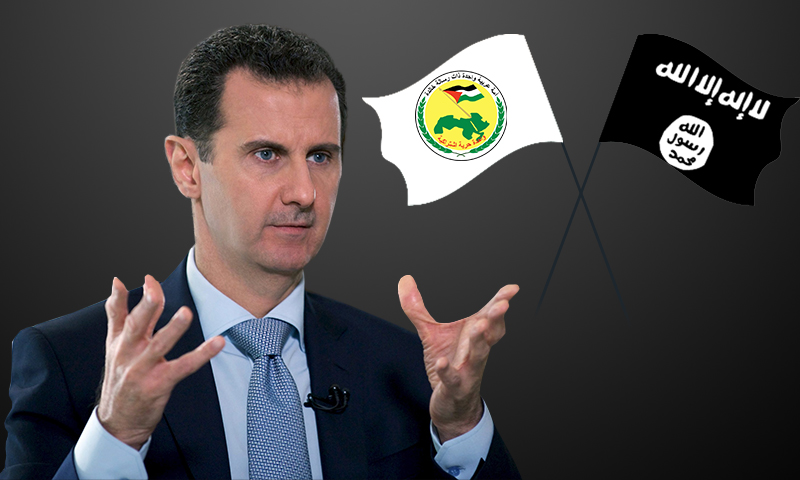 In the narration of its rhetoric, the Ba'ath Party explains the phrase central force as "the mighty military force which spreads from the center and takes control over vast scopes to be under its poles, starting from the center to the farthest side."
Remarkably, this expression is an essential part of a book entitled "Management of Savagery" by Abu Bakr Naji, which is more like a constitution for jihadist groups, and the so-called Islamic State (ISIS) which adopted it in many of its policies.
Taking a glance at Naji's book, the used expression by "Ba'ath Party" appears at the introduction of the seventh page of the book, under the title "the centrality of great powers between the great military powers and the false media aura."
It is not easy to know which side quotes the other to include it later in its rhetoric. However, sharing the same interpretation opens the door to critically question each of their perceptions on how to manage chaos, especially when they consider one another enemies.
"Management of Savagery"
This book is one of the foundational books which had an impact on the formation of the so-called Islamic State (ISIS), although "Abu Bakr Naji" (a nickname) wrote it several years before its establishment.
The book holds great importance in understanding the discourse of jihadi movements in Syria, mainly ISIS and al-Nusra Front.
It revolves around the idea of predicting the collapse of some of the ruling Islamic regimes, which will consequently lead to chaos prevalence in what the author called "regions of savagery, where managing savagery will be the next stage through which the nation will pass.
Abu Bakr Naji, the author, considers that the main tasks of managing savagery is spreading internal security, providing food and treatment, protecting regions of savagery from enemies.
In addition to establishing sharia judiciary amongst people within these regions, raising the level of faith while training the youth for combat and fighting as well as deploying informers, and completing the formation of a small intelligence service.
if you think the article contain wrong information or you have additional details Send Correction