Amputee children dream of prosthetic limbs in northern Syria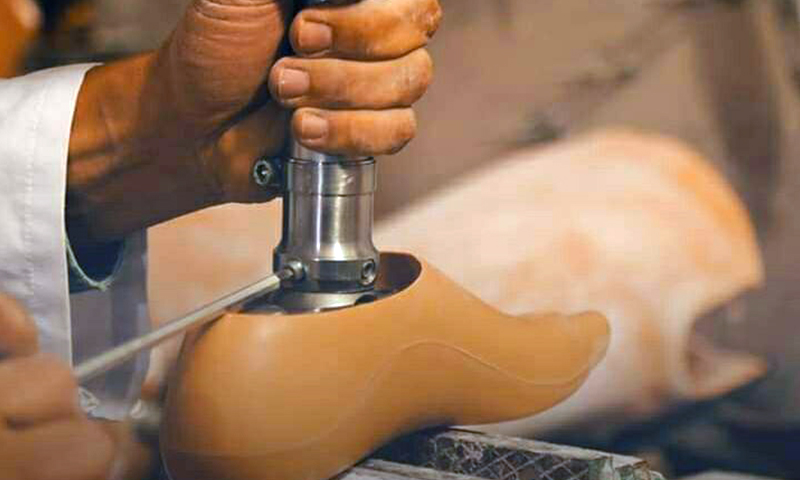 Six years have passed since Maysaa lost her leg in a missile attack carried out by the Syrian regime on her hometown of al-Ghab Plain in rural Idlib when she was almost one year old.
Mohammad al-Abdo, the grandfather and the guardian of the seven-year-old Maysaa, tells Enab Baladi the story of how his granddaughter lost one of her limbs in the bombing that killed her parents and caused her sister a pelvic fracture.
According to al-Abdo, Maysaa is suffering from her prosthetic limb, which is uncomfortable and ill-fitting. Continuing to wear her unfitting prosthesis causes redness and more severe skin damage in addition to the difficulty for her to walk.
The 60- year old al-Abdo, is trying his best to cover the cost of acquiring a more developed prosthetic leg for his granddaughter. He hopes that she can live her life normally and go to school with her friends again.
Intelligent prosthetic limbs… a dream for Syrian child amputees
According to a report issued by the Syrian Network for Human Rights (SNHR), the key players in the Syrian military conflict killed 29,017 children between March 2011 and 20 November 2019.
The report noted that children are the most affected group by the long-running armed conflict in Syria.
The World Health Organization (WHO) published a report with the cooperation of Humanity and Inclusion (previously known as Handicap International (HI) in December 2018. The report mentioned that the number of war-related injuries reached a million and a half; a million of them are children.
The majority of children with war-related amputees are suffering from the lack of proper treatment at prosthetic centers in northern Syria.
Adnan Judy, a medical specialist at a prosthetic reimplantation center in the Kafr Lusin area of rural Idlib, tells Enab Baladi that intelligent prostheses are available at private centers in northern Syria; however, they are expensive, costing between 3,500 to 4,000 USD.
The term "intelligent prostheses" refers to all cases with limb amputations (both the upper and lower limbs of the human body).
Judy adds that some relief centers in northern Syria are facing a crisis; they cannot correctly cover health services for all civilians due to their insufficient capacities.
As a result of the hard conditions in these centers, child war amputees have to wait a long time that might exceed a year sometimes to obtain a prosthetic limb.
Moreover, many prosthetic medical centers suspended their work for the lack of funding and the deteriorating security conditions, amid the advancements of the Syrian regime in the opposition-held areas.
The grim reality of the area affected Abdul Majeed Ismael, a 12-year-old Syrian child displaced by renewed violence from Hish town in the southern rural Idlib. Ismael lost one of his upper limbs and a leg while he was playing with his younger brother, who died in the bombing.
Ismael's father explained to Enab Baladi the hardship of providing a new prosthetic limb for his son and replacing the old one, which was installed in one of the relief centers in southern rural Idlib. Ismael's prosthetic limb was getting small, and in need of replacement, nevertheless, the new prosthetic limb was never placed after some medical centers in Rural Idlib were forced to close due to heavy shelling and displacement.
When does medicine resort to the limb amputations?
Previously, doctors could not resort to a limb amputation unless with the approval of three specialized doctors: an orthopedic surgeon, a vascular surgeon, and a general surgeon.
However, Abdul Wahab Abu Yahya, an orthopedist in Idlib, confirmed to Enab Baladi that the ongoing war increased the number of injured people, amid a shortage of doctors in general, there are only orthopedic surgeons and vascular surgeons.
Abu Yahya pointed out that doctors decide to perform amputations for different reasons such as traumatic injuries from traffic accidents, malignant neoplasms, peripheral vascular disease, and war, the most common cause of amputation in Syria.
After the amputation surgery, within two to three weeks, amputee children can receive a temporary prosthesis directly. A prosthetic fitting usually begins within two to six months after the surgery.  Judy, the medical specialist in a prosthetic reimplantation center in Kafr Lusin of rural Idlib, explains to Enab Baladi the steps of osseointegration limb replacement.
Some individuals receive a temporary prosthesis immediately following amputation or within two to three weeks after surgery. Usually, a prosthetic fitting begins two to six months after surgery.
He said a medical team from the prosthetic reimplantation center takes the measurements of the amputated part for the manufacturing and installing the prosthetic limbs in the first stage. As for the second stage of treatment, a child with amputations goes under balance training to learn walking again using the new prosthetic limb.
According to the medical specialist, the responsibility of training a child to use implanted prosthetic lies with his parents and his mother mainly. The mother knows her child better than anyone; thus, she can help the most.
Nevertheless, children at Maysaa's age need more care for they are still growing up and need a frequent change of prosthetic limbs to fit their body and movement; hence, they need to learn how to use and adapt to the new prosthetic limbs if available.
if you think the article contain wrong information or you have additional details Send Correction