Three oil installations are bombed in Homs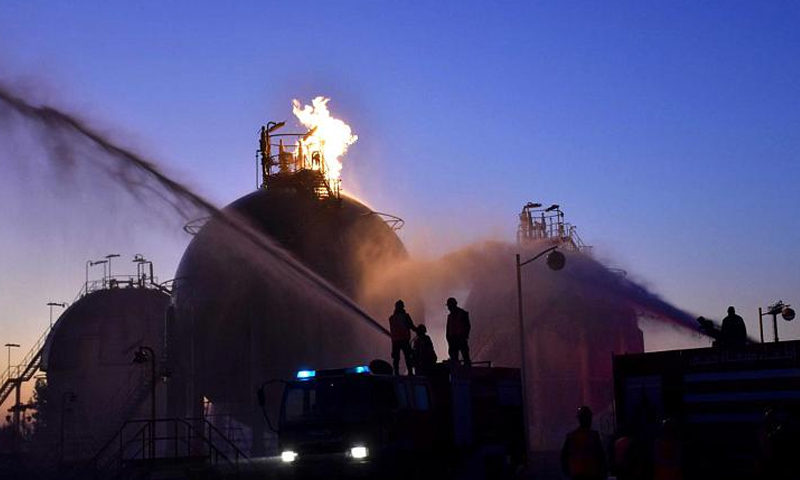 Minister of Petroleum and Mineral Resources, Ali Ghanem, announced that for the second time in less than a month, three oil installations in eastern rural Homs were bombarded, leading to fires and considerable material damage.
Ghanem told the Syrian state-run news agency (SANA) that targeting the oil sector and its facilities were carried out at dawn on Tuesday, 4 February.
He also pointed out that the Syrian Civil Defense and the fire service of the oil installations intervened quickly and managed to bring the blaze under control.
According to the Minister, the installations are "al-Rayan" gas station, a gas plant located in the south-central region, and the "Ebla" gas plant in the eastern countryside of Homs.
Technicians performed damage assessment and carried out the maintenance work for the affected units, according to the Minister.
"Al-Badia 24", a local website, stated on Tuesday, 4 February, that the fire explosions came as a result of a drone attack.
Along with the plants and gas station mentioned by the Minister, al-Badia 24 reported that the "al-Furqlus" gas plant was also bombed.
The General Director of the Syrian Gas Company, Ghassan Tarraf, told "SANA" agency, that on 3 February after 12:30 midnight, the "al-Rayan" gas station was hit with several shells. Besides, a gas plant south of the central region was struck with three missiles, while Ebla gas plant was bombed with two shells that caused no fires.
Nevertheless, no party has claimed responsibility for these military attacks and bombing of these oil installations so far.
The Syrian officials accused the "terrorists." They held them the responsibility for these attacks, as it had done before when the crude oil supply pipelines of Baniyas refinery were attacked on 27 January.
Ghanem declared at that time that such an attack could not be carried out by ordinary individuals, but rather "Frogmen" trained with logistical equipment.
"SANA" reported that on 21 December 2019, Homs refinery, a gas plant in the south-central region of Homs, and "al-Raya" gas station were shelled, leading to damages in the production units.
On 23 June 2019, the offshore oil facilities at the Baniyas Refinery were subjected to a similar operation on several lines, causing an oil spill in the mouth of the Mediterranean Sea.
The Baniyas refinery is located on the eastern coast of the Mediterranean, north of the city of Baniyas. It is under the protection and control of the Syrian regime, in addition to the Russian fleet stationed against the Syrian coast.
According to the statistics of the Petroleum Ministry, the Syrian oil production has increased since 2017, from ten thousand oil barrels to 60 thousand barrels per day since the regime forces regained control of the oil fields in Homs that was under the power of the so-called "Islamic State."
if you think the article contain wrong information or you have additional details Send Correction