Syrian students face obstacles to graduation at Turkish universities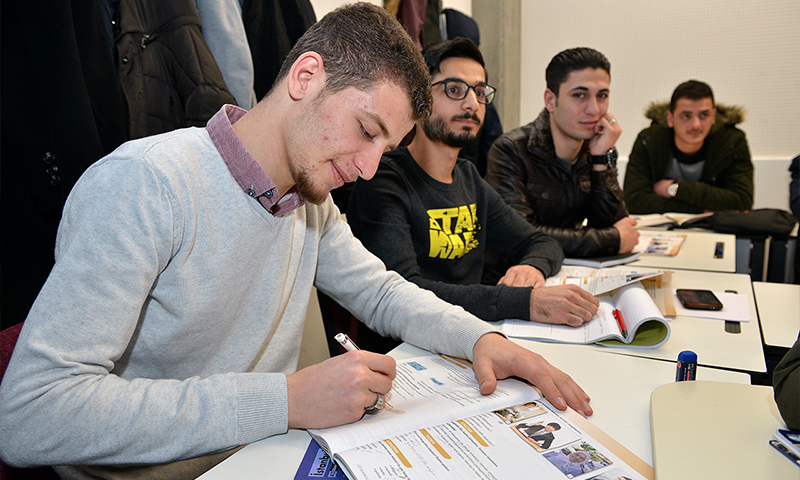 Shams Ahmad is a Syrian girl who is studying Pharmacy at Hacettepe University in the province of Ankara. Ahmad, in an interview with Enab Baladi, speaks about the vagueness of the Turkish higher education system that delayed her graduation. She said that "I have studied at a Turkish university for five years, but as I was getting ready to receive my graduation certificate, a university official told me that I still have an elective course to take in the next semester!"
The ambiguity of the Turkish higher education system 
Ahmad entered the university in 2014 after passing the Scholastic Assessment Test (SAT), a globally recognized college admission test. She continued studying until the current year. Ahmad told Enab Baladi that she was asking the student affairs office about her academic situation before the final semester ends. They said to her that she could graduate after passing the subjects available in the last semester. However, Ahmad was surprised to know that she still has a new elective course to take in the next semester of the new academic year in order to graduate, despite her "good" rate that qualifies her to graduate.
Ahmad's situation is one of many similar cases of Syrian students at Turkish universities.
Syrian university students face many obstacles; many Syrian students suffer racism and discrimination by some Turkish students and professors. Moreover, Syrian university students are not familiar with graduation criteria at Turkish universities.
Ahmad blamed the student affairs office, which did not clarify her situation more clearly. She also acknowledged her responsibility for the lack of contact with student affairs offices and her colleagues who fully understand the university system. Therefore, she called on other Syrian students to contact more with their classmates and to visit the student affairs office without feeling embarrassed about their repeated questions.
Racism overcomes friendship at Turkish universities
Student Mohammad al-Jundiyah, who is studying Economics at Receb Tayyib Erdogan University, believes that the reason why he has not graduated yet is that he feels socially excluded at his university.
Al-Jundiyah was admitted to the university in 2015 after passing the (YÖS) exam, the entrance examination of international students at Turkish universities.
Al-Jundiyah said, "I started studying in normal conditions, and I had no problem while learning the Turkish language." Then, he pointed out, "my main problem started last year when I did not graduate due to the frustrating situation my colleagues and professors put me in during the academic years. I felt so alone and socially outcast by students. Moreover, if I asked for something, the Turkish students would refuse to help me just because I am a foreigner."
Muhammad recalls when he was not added to a WhatsApp group created by the Turkish students for talking about their challenges and sharing information about their lectures.
Al-Jundiyah adds that some university professors treat Syrian students "badly" because of the political events in the country, primarily when these events are related to the situation in Syria like the military operations in Afrin or eastern Euphrates region. Other Turkish professors hold Syrian students responsible if a political party wins or loses during Turkey's internal election of political parties since several parties develop their electoral programs in a way that poses and handles the Syrian refugee crisis.
Proposed solutions
The Istanbul Policy Center (IPC) conducted academic research at "Sabancı University" titled "higher education opportunities for Syrians in Turkey," and published it in March 2018.
The researcher, Wiebke Hohberger, discussed with university professors and Syrian students the pros and cons that are faced by Syrian students at Turkish universities.
The research concluded with many recommendations to improve the conditions of Syrian students at Turkish universities. It invited to regularly develop Turkish professors' teaching skills and qualify them for a better acceptance of different cultures and understanding of challenges that face Syrian students and others who fled the war or various catastrophes.
The research invited universities to "raise awareness of the importance of fostering a culture of mutual respect at the university campus."
Among the recommendations was a call for the public discourse made by politicians and media professionals on Syrians, to provide detailed data and information regarding policies and regulations supporting access for Syrian students to higher education in Turkey.
The provision of this kind of information and data prevents the spread of rumors on the advantages given to Syrians, which will promote the acceptance and inclusion of Syrian students in Turkish society eventually.
The data of the Turkish Ministry of Education website showed an increase in the number of Syrian students admitted to Turkish universities in the last six years. In the school year of 2013 – 2014, only 1,785 students were enrolled in Turkish universities, while 27,034 Syrian students got accepted in different Turkish universities in the last school year of 2018 – 2019.
if you think the article contain wrong information or you have additional details Send Correction