Activists announce losses of 88 facilities and buildings due to bombardment on Idlib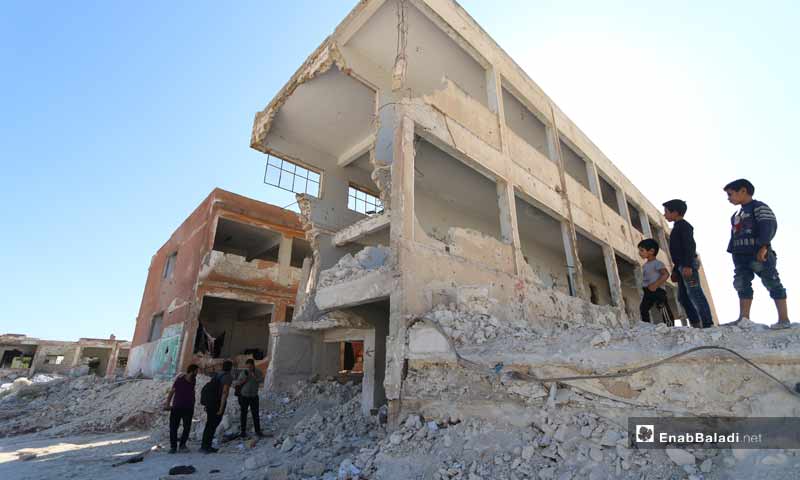 The statistics gathered by the Syrian Response Coordinators Group (SRCG) for January show high losses of facilities and infrastructure during January.
According to a statement released by the SRCG on Saturday, 1 February, 88 facilities, including seven camps for the internally displaced persons (IDPs), 11 hospitals in addition to 28 schools were targeted during the period from 1 to 31 January 2020.
19 Mosques, nine popular markets, three water transfer stations, two power stations, four bakeries and five "Syrian Civil Defence" were also reportedly targeted in the area.
The SRCG released a statement through its official media outlets on 28 January. The statement indicates that the total number of IDPs in northwestern Syria during the last January amounted to 28,852 families (with a total of 167,131 people).
The SRCG's field teams documented the displacement of 10,446 families (with a total of 60,377 people) from the districts of Ariha, Saraqib, and Khan al-Sabil in rural Idlib.
Civilians continue to flee the town of Ariha and its southern and western rural areas for safer areas in northwestern Syrian amid the increasing intense battles and military operations in various regions.
The field teams also documented the displacement of 18,406 families (with a total of 106,754 persons) from the western and southern countryside of Aleppo during the period between 16 and 28 January 2020.
The SRCG called upon the international agencies and the global community to address the urgent humanitarian needs of those newly arriving displaced in the relatively safe area, demanding the authorities concerned with Syrian affairs to intervene directly to stop targeting civilians in Idlib province and its surrounding areas.
Moreover, the SRCG, in a previous statement made on 27 January, appealed to all local authorities, to secure housing shelters, open schools, and camps urgently for the newly displaced persons in northern Syria.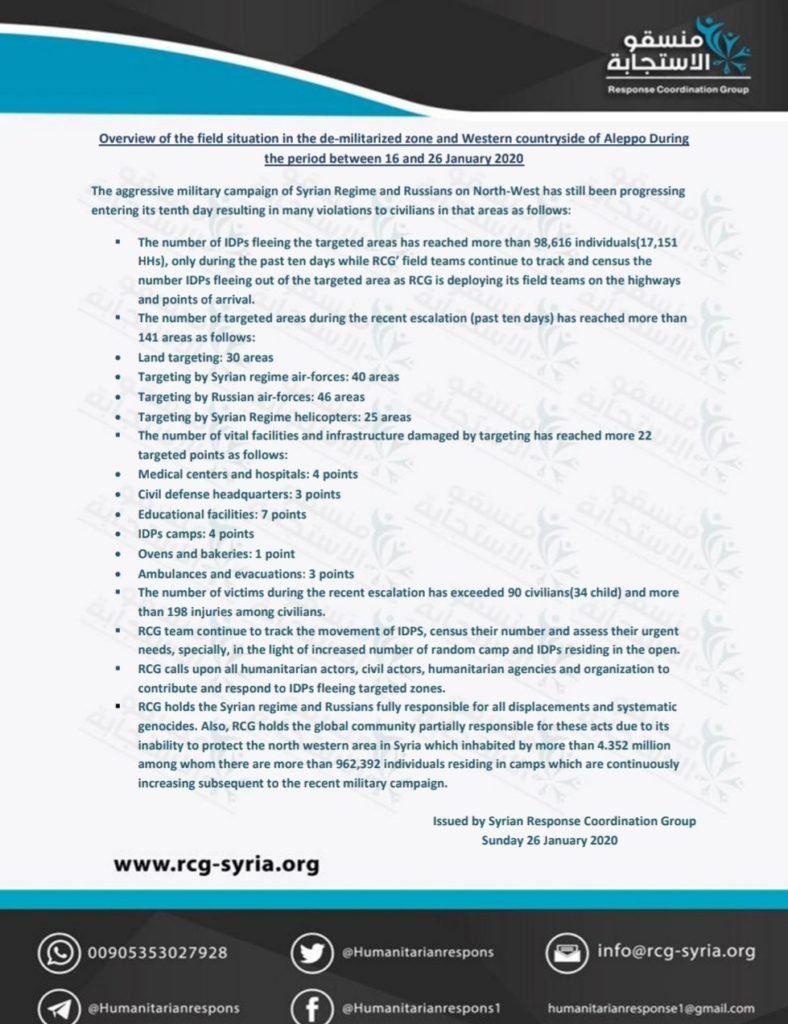 if you think the article contain wrong information or you have additional details Send Correction