Nine members of one family killed in Russian airstrike in rural Aleppo.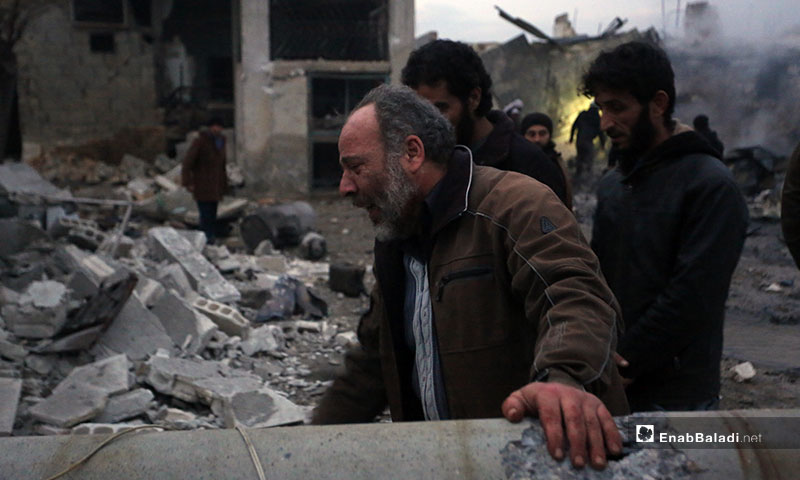 The Russian Armed Forces committed a massacre by bombing an entire family whose members were preparing to flee with their car the escalating violence in the western countryside of Aleppo to northern Syria.
Hussein Badawi, director of Center 104 for the Civil Defense in the western countryside of Aleppo told Enab Baladi on Monday, 3 February, that nine people of one family, including four children and three women, were killed in a Russian raid that targeted them in the al-Rahal Association in the western countryside of Aleppo.
The escalation continues in the western countryside of Aleppo; the Syrian regime forces have conducted a military battle to make a ground advance in the area, in parallel with another assault in Idlib's countryside.
On Sunday, 2 February, the "Civil Defense" in Aleppo city confirmed that four people, including a woman, were killed. The Civil Defense also documented the injury of 14 people, including four children, as a result of intense bombardment by the Syrian regime forces and its ally Russia, on the western, northern and southern areas of Aleppo.
The bombardment targeted the towns of al-Zarba, Maarat al-Arteeq, Darat Izza, Sheikh Ali, Qubtan, al-Salloum, Einjara, according to the "Civil Defense."
The Syrian regime warplanes committed a civilian massacre in the town of Sarmin in the Idlib countryside on Sunday, killing an entire family of eight members, including four children and three women.
مجزرة بحق المدنيين راح ضحيتها عائلة كاملة مؤلفة من 8 أشخاص بينهم 4 أطفال وثلاث نساء، صباح اليوم الأحد 02 نوفمبر/ شباط، جراء استهداف بلدة سرمين من قبل الطيران الحربي التابع لقوات النظام.#إدلب_تحت_النار#الخوذ_البيضاء pic.twitter.com/hOBYSlZyMJ

— الدفاع المدني السوري (@SyriaCivilDefe) February 2, 2020
Media activists in the city of Binnish in the southern countryside of Idlib documented the death of a child and the injury of two other people, as a result of the bombing carried out by the Syrian regime air forces, near the "al-Zahraa Mosque" in the city.
Mark Cutts, Deputy Regional Humanitarian Coordinator for the Syrian Crisis, said on 2 February that the humanitarian situation in Idlib is acute, pointing out that civilians are trapped in a war zone, the vast majority of whom are women, children, and old people.
"We are shocked and horrified by the continued military attack on the civilians," Cutts said, stressing that international humanitarian law must be applied, regardless of the causes of war, whether against terrorism or any other conflict.
if you think the article contain wrong information or you have additional details Send Correction