Karate championship for children and juniors' categories under supervision of Afrin local council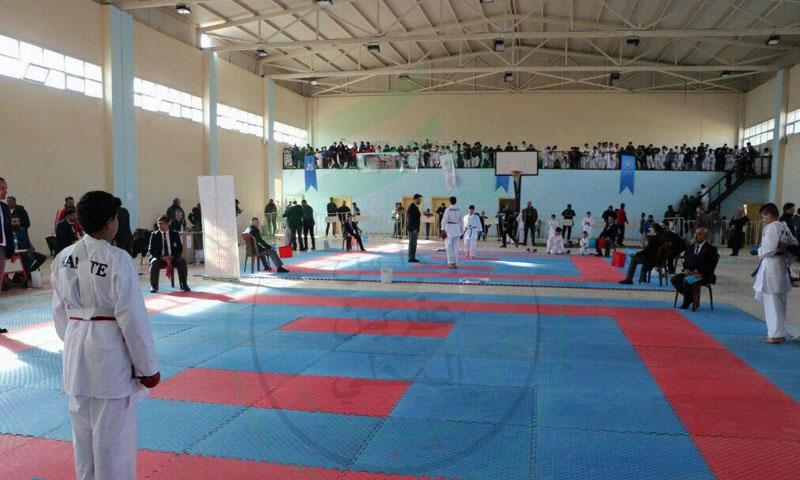 Enab Baladi – Aleppo countryside
In coordination with the Turkish Karate Federation, and with the presence of 20 international referees from Turkey, the Sports Office of Afrin Local Council concluded the Karate Championship for cubs and juniors categories on January 26.
"Suqour Zbeid" Club won first place, followed by Kabasin Club in second place, Qusoura Club in third place, and Jisr al-Shughur Club in fourth place.
One hundred twenty players participated in the championship, which was held according to weights, including 45 players from eight clubs in the northern Syrian regions, namely Afrin Academy, al-Madinah Club, Qusoura Club, Myriameen Club, Jisr al-Shughur Club, al-Bab Club, Kabasin Club and Soqur Afrin Club, as stated by the Secretary-General of the Sports Office of Afrin Local Council, Mohamad Jumaa, to Enab Baladi.
The championship included the children and juniors categories. The cubs' category included three groups according to age, starting from those born in 2008 up to 2010, with weights ranging from 25 kilograms to 50 kilograms and more.
The juniors' category included two groups according to age, including those born in 2006 and 2007 with weights ranging from 37 kg to 54 kg and more.
Before the championship, the Sports Office had conducted tests and training courses for coaches, to develop skills and expertise, according to Jumaa.
The Karate Championship came as a continuation of several championships that the Sports Office of Afrin Local Council had organized in various sports.
After the restoration and reopening of the Sports City early last year, the sports office organized in November 2019, in cooperation with Ashrea Youth Center, the first ping-pong championship, with the participation of 35 players from six clubs.
This championship was preceded by the "Nabaa al-Salam" Taekwondo championship in northern Syria in the same month, which was concluded on the ground of the gymnasium in the city, with the participation of 95 players from ten clubs.  Syria Club won first place, Champions Club came second, while "Shotokan" and "Baraem al-Thawra" clubs came respectively at third and fourth places.
if you think the article contain wrong information or you have additional details Send Correction