How do employees earn their living in Damascus these days? Through legitimate or twisted ways?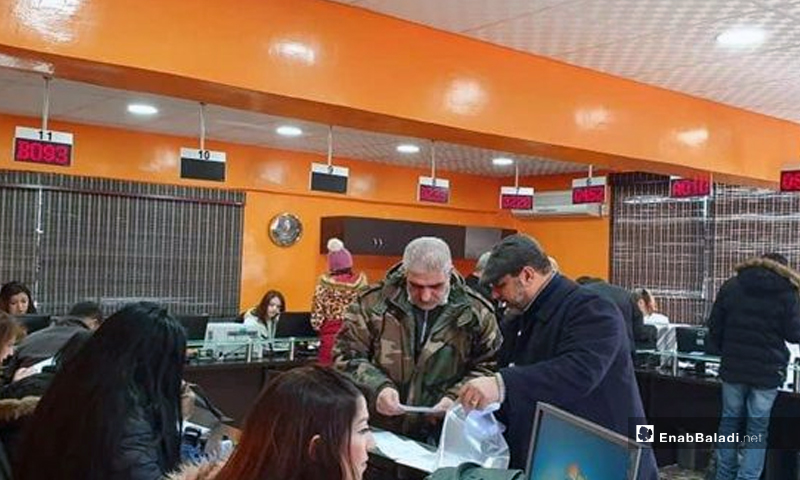 Damascus – Nour Al-Huda Kheyata
Press reports have always talked about the cost of living in "the world's oldest", poorest, most miserable capital, and perhaps one of the most dangerous also.
According to figures, the Syrian family needs at least 325,000 Syrian pounds to survive, according to Tishreen newspaper, without including renting costs for thousands of displaced families.
Tishreen published the data as mentioned earlier a year ago when the dollar exchange rate was about 500 Syrian pounds. Still, today, the exchange rate has doubled, and, consequently, prices have doubled too, with a slight or almost negligible increase in the public and private sectors' wages (a 20, 000 Syrian pounds increase).
The average monthly salary of government employees is about 80,000 Syrian pounds, and at best, it may reach 120,000, including all the incentives and promotions that the employee may receive.
In the private sector, the situation is almost the same, as the salaries range between 120,000 and 150,000 Syrian pounds at best.
As for administrative positions, salaries may reach 200,000 Syrian pounds at best. So how do people manage to survive? How do they secure the necessary money to support their families?
One job is not enough!
It may be naive for an employee or worker to rely on one job, as working in two or three different places has become common in Damascus, and the worker has to leave one workplace to join the other. For instance, a taxi driver has to work two and perhaps three shifts in the morning, evening, and by night.
The same situation applies to the private sector workers, as many of them work in other jobs after the end of their work hours, such as teaching or translating.
The employees or workers are trying to provide extra income, other than his monthly wage.
One worker in the family is not enough!
Gone are the days when the father is the only breadwinner of his family. Nowadays, the entire family, including husband, wife, sons, and daughters, have to work, each according to his ability. By the end of the month, all the salaries are accumulated to cover the costs of living, or at least each family member suffices his or her own needs and contributes with an amount to support the household.
Students also started getting jobs, as each student is required now to search for evening or night time jobs to help his family, instead of consecrating all his time to study.
Work within work
One of the ways to get extra money is to consecrate some time to do an additional job while being already at work, especially in government jobs. Thus, the employee goes to his workplace, checks his presence in the work register or fingerprints the digital time attendance device, and goes out to do another job until noon. Then, he returns and rechecks his presence in the same way.
He thus earns his basic job salary and gets another wage from the work he did during that time.
Corruption and theft
You cannot cross the border carrying any official documents or even sign it without paying a bribe to the government employees responsible for the task; otherwise, you will never have access to the service you need.
Scenes from Diaries of a General Manager are daily re-incarnated in reality, as bribes are handed to employees publicly, without any sense of shame or fear.
Some justify taking bribes, either for him or for his colleagues, by merely saying: "How can we survive by relying only on our salaries, without accepting tips?"
The value of these tips ranges from 500 pounds to 2000 Syrian pounds for one signature. Therefore the employee can save an extra amount of cash that may equal or exceed his monthly salary to support his family.
Bribes are not limited to government jobs but spread even to the private sector, so you can bribe the dentist secretary to skip other patients and meet the doctor sooner, or bribe an insurance officer, to increase your benefits.
Syria ranked second to last in the annual report list of the Corruption Perceptions Index 2019, issued by Transparency International, which monitors transparency and corruption in 180 countries around the world.
In its annual report issued on 23 January, Transparency International ranked Syria 178th with 13 points, followed by South Sudan and Somalia in the last rank, with nine points.
Theft and kidnapping
The phenomenon of robbery, pick-pocketing, and kidnapping has also spread in Syria, with the increase of poverty rates to an unprecedented level. Instances of theft range from stealing workplace equipment such as stationery, furniture, and electrical appliances, to taking millions of Syrian pounds in exchange for suspicious deals or fake contracts.
As for pick-pocketing, it became so common that a day would not pass without recording multiple incidents of stealing mobile phones or women's bags in the garages and crowded areas.
The kidnappings appear to be the lowest so far, although some cases are being recorded from time to time. Usually, the intention behind the kidnapping is not political or sectarian, but purely economic, as the kidnapper requests a hefty ransom in exchange for the release of the kidnapped.
"If it is destroyed, then it is ruined."
There are still some crushed families who survive with legitimate sources of income but suffer significantly to secure a living. Thus, other families resort to twisted ways to earn some extra cash and justify it, saying that they had to do it.
Tishreen quoted some economists saying that 90 percent of the Syrian people live below the poverty line, compared to a UN statistic, included in its needs assessment for 2019, which stated that 83 percent of the Syrian people live below the poverty line.
if you think the article contain wrong information or you have additional details Send Correction