Education directorate suspends school attendance in rural Idlib due to displacement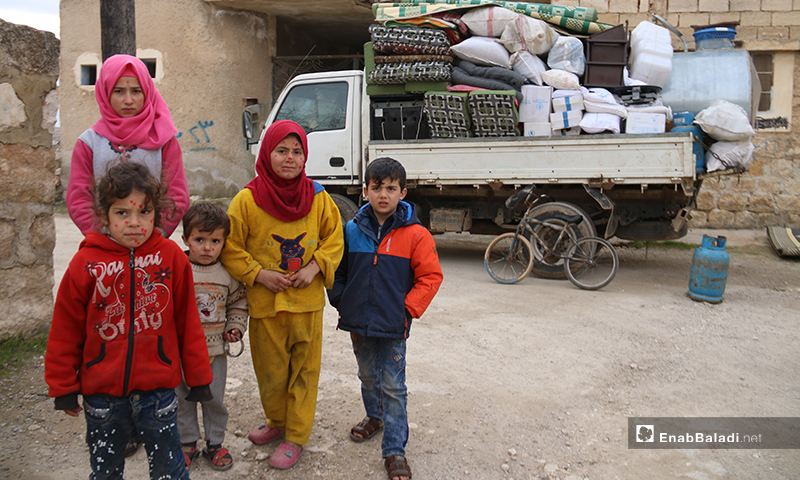 Idlib's education directorate has suspended classes at all levels at schools of some towns and cities in rural Idlib in northern Syrian due to the massive wave of displacement in the region.
Harem's educational complex of the education directorate in the province of Idlib announced on Friday, 31 January, the suspension of school attendance for a week, starting from Saturday, 1 February.
Fahad Qasem Taleb, the director of the educational complex in the city of Harem, said in a signed statement that the class-suspension came after schools were crammed with the newly internally displaced persons (IDPs). The suspension will last until the IDPs are given secure shelters to stay in.
Enab Baladi's correspondent in Idlib reported that schools suspended classes in the cities of Salqin and Azmarin for the same reason and duration.
Since the Sochi agreement signed in Russia in September 2018 until 31 January, the Syrian regime forces and its ally Russia have carried out five military campaigns on the so-called de-escalation area in northwestern Syria. These military campaigns resulted in the displacement of 1,695,500 persons, the deaths of 1,992 people, including 549 children, according to the statement of the Syrian Response Coordinators Group (SRCG), which was released on 31 January.
The SRCG has documented the numbers of victims and displaced people during the five military campaigns launched by the regime and the Russian forces from October 2018 to the current military campaign.
First military campaign – October 2018: 31 civilians were killed, including 16 children, while more than 37,200 people were displaced.
Second military campaign – December 2018: 39 civilians were killed, including 11 children, and more than 41,300 people were displaced.
Third military campaign – February 2019: 1,418 civilians were killed, including 382 children, while 966,100 persons were displaced.
Fourth military campaign – November 2019: 310 civilians were killed, including 99 children, and nearly 382,500 people were displaced.
Fifth Military Campaign – January 2020: 131 civilians were killed, including 41 children, and about 120,000 people were displaced from the western countryside of Aleppo, and 148,500 from the southern and eastern Idlib countryside.
On 17 September 2018, Turkish President Recep Tayyip Erdogan and his Russian counterpart Vladimir Putin met in the Black Sea coastal city of Sochi. They agreed on the establishment of a demilitarized zone between the opposition and regime-controlled areas in the province of Idlib.
if you think the article contain wrong information or you have additional details Send Correction