Assad's helicopter shot down in Saraqib city in Idlib countryside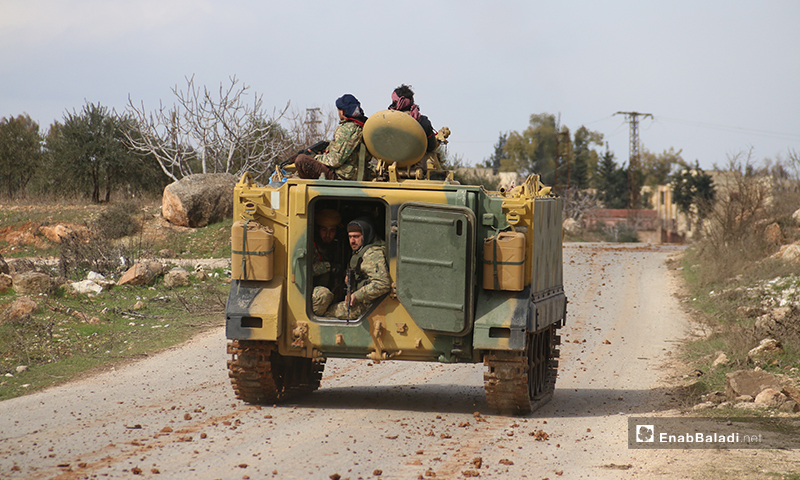 Syrian opposition factions have initiated a military operation on the axis of  Saraqib city in the eastern countryside of Idlib, which resulted in the shooting down of a helicopter believed to belong to the al-Assad regime. 
The correspondent of Enab Baladi in the province of Idlib reported today, 11 February, that the Turkish-backed opposition factions started a military operation in the village of Nayrab in the eastern countryside of Idlib.
The correspondent emphasized that the helicopter was brought down by anti-aircraft fire from the village of Nayrab in rural Idlib.
Syrian activists and opponents posted on social media a video, showing a Syrian combat helicopter on fire and falling to the ground after it was hit.
اسقاط طائرة مروحية للعصابة البرميلية في ريف #حلب…اللهم انتقم للمستضعفين… pic.twitter.com/bfplI6yMGj

— د ـ أحمد موفق زيدان (@Ahmadmuaffaq) February 11, 2020
For its part, the National Liberation Front (NLF)  announced through its Telegram channel, the killing and wounding of a group of regime forces, and the destruction of a tank due to their direct targeting with heavy artillery shells in the village of Nayrab in the eastern Idlib countryside.
The NLF added that it also destroyed an al-Assad 23 mm machine gun installed on a military vehicle on the axis of Dadijh village in the eastern Idlib countryside with an anti-armour missile.
The Turkey–backed Syrian National Army (SNA) has not officially announced the start of the military operation; however, an SNA leader, who spoke on condition of anonymity, stated that the operation was targeting the city of Saraqib in Idlib countryside.
The military operation comes amid rising tension in the city of Idlib, after the Syrian regime forces, with the support of the Russian airpower, made advances on the ground in the past few weeks and violated the Sochi agreement signed between Turkey and Russia. 
The advancement of the regime forces resulted in the killing of 13 Turkish soldiers, which prompted Turkey to threat of conducting a large-scale military operation if the regime forces did not withdraw behind Turkish observation posts.
Turkey was expected to carry out a military operation yesterday morning, but Russia urgently sent a delegation to Ankara to negotiate the fate of the city.
However,  Reuters news agency quoted a Turkish diplomatic source, today, that the delegation left the capital, Ankara, without an agreement, which was clear on the ground.
if you think the article contain wrong information or you have additional details Send Correction