Unknown parentage… Adoption of children in Syria bypassing Sharia and law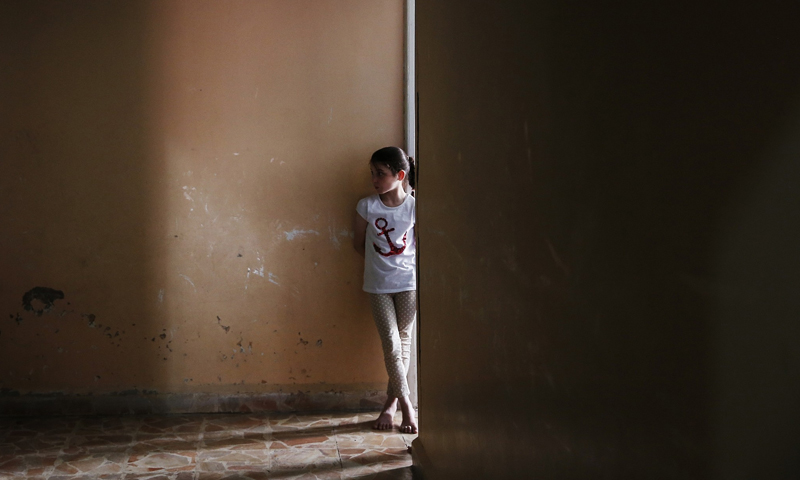 In the early morning in the countryside of Lattakia, an intermittent crying pushed a number of people who were praying to go near the mosque in search of its source. They were surprised by an hour-old baby wrapped in a bag and covered by a woman's coat.
They took the baby to the mayor of the town, who suggested placing her in the orphanage, but a young man from the audience did not accept that solution.
The young man, who is residing in Idlib countryside and preferred to remain anonymous for personal reasons, did not expect that his usual visit to the coastal region for trade in 2010 would end with taking care of a girl of unknown parentage.
He told Enab Baladi that he accompanied her with the mayor to the police station, confirmed the incident of finding her and insisted that he wanted to take care of her.
His mother received him with a group of women to see the newcomer, who has become a new sister for him since that day, after legally registering her on the lineage of his father.
Abeer Al-Ismail expressed that she abandoned her daughter out of "love," referring to the suffering of her sister, who didn't have children and was deprived of the feeling of motherhood, to justify the registration of her baby in the sister's name, five days after her birth.
Abeer told Enab Baladi that her act aimed only at "bringing joy" to her sister's heart and helping her to maintain her marriage.
Abeer added that her decision was taken after long thinking and with the approval of her husband, as she is a mother of five other children. Now, after her sister's family moved to the Netherlands, she hopes that her 12-year-old daughter does not hate her and that her relationship remains good with her brothers.
Forbidden by Sharia and law
 According to the statistics of the Syria Response Coordinators, issued in December 2019, Syria has experienced during the past nine years an armed conflict that has killed hundreds of thousands of people, dispersed millions, and left 185,000 children orphaned in the northwestern region alone.
Mohamed Hallaj, Director of Response Coordinators, said in a previous interview with Enab Baladi that the war increased the number of orphans and displaced children.
According to Bilal Al-Abrash, university teacher who holds a Master's Degree in the principles of jurisprudence, Islamic law encourages sponsorship of orphans but does not allow changing their lineage.
Al-Abrash explained to Enab Baladi that "the matter is totally forbidden by Sharia." However, Sharia permits "the mother to breastfeed the child under two years, to prove the inviolability of breastfeeding so as to become with her husband the parents of the child by breastfeeding, but with keeping his lineage, if known, or not giving him the lineage of the family caring for him."
Lawyer Nihad Abdel-Wahab Al-Asaad told Enab Baladi that the Syrian law agrees with Sharia in the prevention of adoption and change of lineages, since children of unknown origins are registered at the Personal Status Department in a separate category until their parents acknowledge their lineage and bring the necessary documents, or the child remains legally "foundling" and takes a separate name and surname.
Al-Assaad added that the Syrian law "prohibited and criminalized adoption," and instead created care centers that allocate a file for every child, which mentions the place of finding and the age, assigns him a name and surname (in case he does not know his lineage) and registers him at the civil registry.
The lawyer warned of the absence of regulatory legislation and legal follow-up to developments in Syria and neighboring countries, which included millions of displaced people and refugees from Syria, and its impact on the loss of the identity of displaced Syrian children and orphans.
Governing laws and "urgent" needs
 Rima Al-Qadri, Minister of Social Affairs in the Syrian regime's government, told Al-Watan newspaper in October 2017 that the "crisis" in Syria affected the social reality and increased the percentage of children of unknown parentage, despite the lack of accurate statistics on their numbers, due to the war conditions.
In 2016, a project was presented to address the affairs of "people of unknown parentage" in Syria, and to impose "misdemeanor" and financial penalties on every person who refuses to surrender children or hides information about them with the aim of not knowing their parents or one of them or their lineage, with a penalty of imprisonment from three to six years, and a fine of up to 400,000 Syrian Pounds.
The law, which was approved by the members of the People's Council in June of 2018, includes keeping the child of unknown parentage in shelters until the age of eighteen, to be able to depend on himself and earn his livelihood. The shelter's administration, after the approval of its directorate, may extend its hosting for a period of one year on the condition that the extension period does not exceed seven years.
Anyone who finds a child of unknown parentage is required to inform the police and hand him over with what he has found with him, in order to record the details of the incident and inform the public prosecutor and the approved guesthouse to receive the child.
The law considered that every Arab Syrian Muslim child of unknown parentage, "unless proven otherwise," will be re-registered with his real lineage by the civil registrar in case his lineage from his father is proven by a final judgment.
According to the Syrian law, a child of an unknown parentage is every newborn or child, under the age of seven, who was found but his lineage was not proved, or his parents were unknown, or lost the way and did not have the ability to find his relatives due to his young age or weak mind, or because he is deaf.
The United Nations classifies unaccompanied, separated children, residing with elderly or disabled caregivers among the most vulnerable groups who are in dire need of assistance, as "children may face specific risks due to age, gender, disability and social perceptions of childhood."
Children living in crowded places, such as collective shelters and with host families, are more vulnerable to domestic violence, according to the OCHA's report on humanitarian needs in Syria in 2019. The report revealed all Syrian governorates reported that children were separated from their families in 46 percent of cases residing in Syria, as a result of the death or disappearance of caregivers, army recruitment or early marriage.
if you think the article contain wrong information or you have additional details Send Correction