Turkey sets up new military observation post in rural Idlib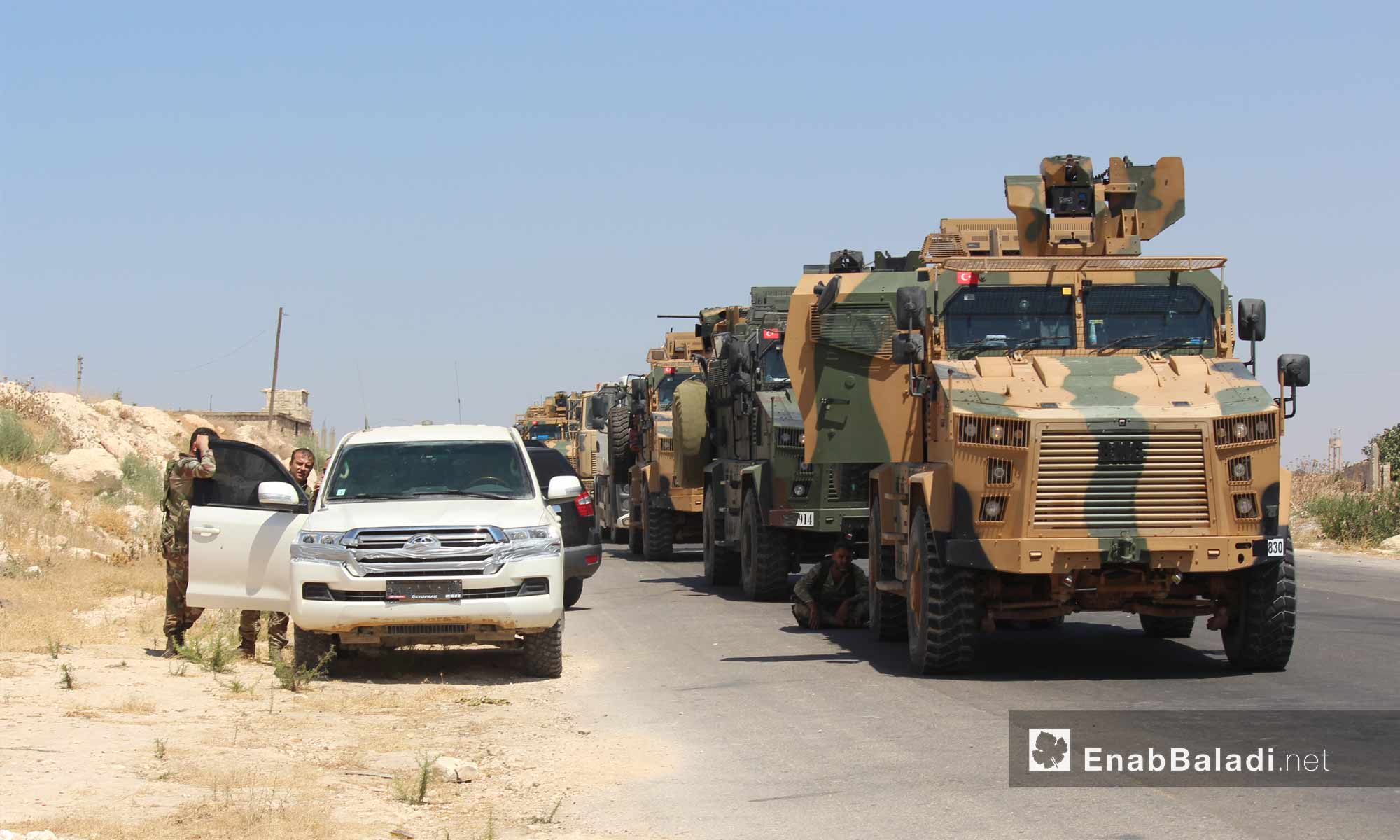 Turkey is reportedly setting up a new military observation post in rural Idlib after the Syrian regime forces laid siege to Turkey's previous posts in line with the military progress on the ground in the area.
Enab Baladi's correspondent in the province of Idlib, reported today, Tuesday, 28 January, that a military convoy of artillery and tanks, entered the Kafr-lossing crossing, north Idlib, heading towards the observation posts. 
However, al-Mohrar Media Network of " the Sham Legion" faction accompanying the Turkish convoy, stated that the Turkish convoy has established a new military observation post in the grain silos south of the city of Saraqib in the eastern countryside of Idlib. 
Al-Mohrar confirmed that Turkey conducted reconnaissance of the area near the M5 international highway (Aleppo-Damascus) several months ago, noting that the Turkish convoy consists of nearly 100 Turkish military vehicles, including armored vehicles carrying logistic equipment, soldiers, tanks, artillery, and drillings.
The Turkish Armed Forces have established 12 military observation posts in Idlib since the beginning of 2018 under a "de-escalation" deal with the Syrian government's allies, Russia and Iran signed in Astana. Furthermore, the Turkish Armed Forces chose to redeploy and establish its observation posts in strategic areas in the province of Idlib.
However, in the wake of the Syrian regime's advances in the area, two Turkish posts were besieged in the past month: the first post in the town of Morek in Hama countryside and the second post in the town of Surman in Idlib countryside.
Now battles and clashes are occurring near the observation post in Maʿar Hatat near the city of Maarat al-Numan.
The Turkish posts were previously subjected to direct targeting by the regime forces, to which Turkey responded directly, amid warnings by Turkish officials.
Turkish Foreign Minister Mevlüt Çavuşoğlu announced last Thursday, that Turkey will do what is necessary if the Turkish observation posts in Syria are attacked.
This coincides with the current military operation carried out by Syrian regime forces with the support of the Russian air force. The Syrian regime managed to cut off the M5 international highway, which links the capital Damascus with the northern city of Aleppo and re-took control of many towns on the outskirts of the city of Maarat al-Numan. 
The correspondent of Enab Baladi said on Monday, 27 January, that the Syrian regime forces established control over the rebel-held towns lying on the M5 international highway: al-Za'lanah, al-Dana, Babila, al-Sawamea, Tell al-Sheikh, Maasaran, and Roadko area, south of Khan al-Sabil.
if you think the article contain wrong information or you have additional details Send Correction