Turkey establishes new military observation post in Saraqib in rural Idlib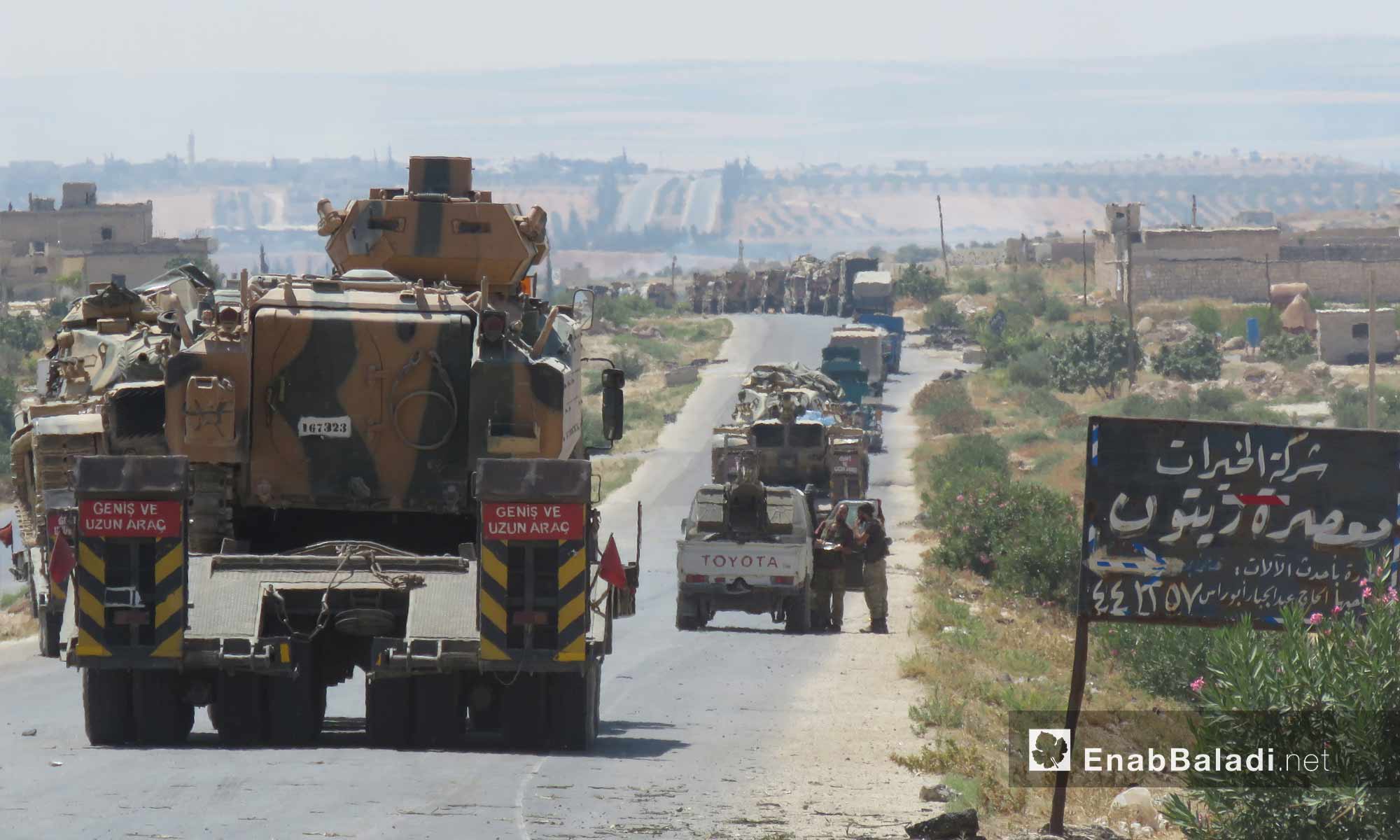 The Turkish Armed Forces have set up a new observation post in the city of Saraqib in the eastern countryside of Idlib on the M5 international highway.
 The M5 international highway is strategically important because it links northern and southern Syria, including the political capital (Damascus) to the economic capital (Aleppo).
Al-Mohrar Media Network, a news outlet linked to the Sham Legion faction which accompanies the Turkish convoy in Syria, reported that Turkey established a new military observation post yesterday, Thursday, 30 January, north of  Saraqib city on the M5 international highway.
The establishment of the observation post comes days after a military convoy of tanks and artillery entered the Kafr-lossing crossing, north Idlib, and set up a new observation post in the grain silos south of Saraqib city in the eastern Idlib countryside.
Activists circulated on social media a picture showing that the Turkish Armed Forces erected a series of berms around the city of Saraqib to hinder the Syrian regime forces' progress in their area.
However, some fighters of opposition factions confirmed in audio recordings published on Telegram, accessed by Enab Baladi that erecting these berms was a step to prevent the passage of civilians to the town of Mardikh, which the Syrian regime forces are monitoring fiercely.
The role of Turkey's military observation posts established in the past few days is not clear yet, especially after the Syrian regime forces laid siege to Turkey's previous posts in the northern countryside of Hama and southern countryside of Idlib.
Ankara has shown no reaction to besieging its posts, except for the threats by officials to respond directly and immediately to any targetting by the Syrian regime forces. 
The Syrian regime made progress, with the support of the Russian air force, in the region and took control of the strategic city of Maarat al-Numan, and advanced towards the city of Saraqib.
Saraqib's importance lies as the intersection point of the international highway "M5", which connects Damascus and Aleppo and the provinces of Latakia and Aleppo.
Turkish Foreign Minister Mevlüt Çavuşoğlu announced on 23 January that Turkey would do what is necessary if the Turkish observation posts in Syria are attacked.
The General Command of the Syrian regime forces announced on Wednesday, 29 January, that the regime forces made rapid progress in the southern countryside of Idlib. As a result, the regime took control of the following towns and villages: Deir al-Sharqi, Maar Shamarin, Tell Mannas, Maar Shamshah, Maar Shurin, al-Za'lanah, al-Amoudia, al-Dana, Babila, Kafr Rumah, al-Hamidya, Khirbet al-Hanak, Deir al-Gharbi, Tell al-Sawamea, Basida, Tqanah, Kafr Basin, Babolin, Jarabulus, Joz Finn, al-Salihiyah, Sahyan, al-Ghadfa, Maasaran, Tell Dibis, Marata, Ain Qurei and Maarat al-Numan. 
if you think the article contain wrong information or you have additional details Send Correction