Syrian regime scores advances on ground in north-western Syria.. only 2.4 miles away from city of Maarat al-Numan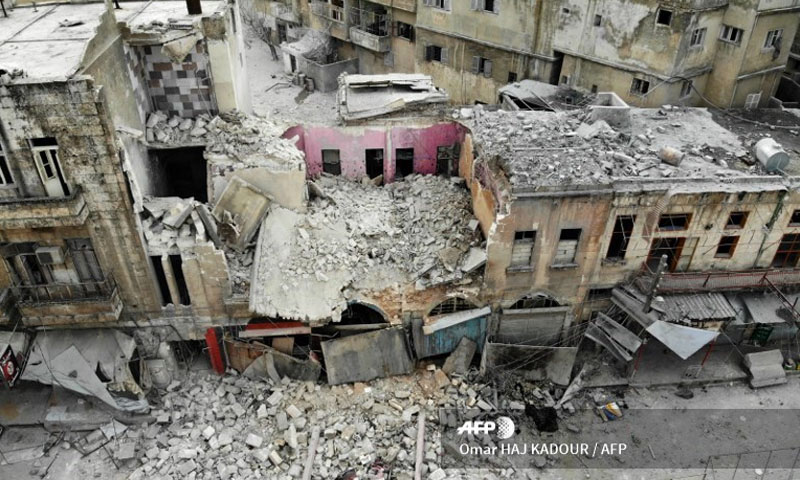 The Syrian regime forces established control over the villages of Maar Shamarin and Deir al-Sharki near the city of Maarat al-Numan, southeast of Idlib province after clashes with the fighting opposition factions in Idlib. As a result, the Syrian regime forces are now four kilometers (2.4 miles) away from Maarat al- Numan.
The correspondent of Enab Baladi reported today, Saturday, 25 January, that the regime forces launched two simultaneous attacks on the axes of Sahyan village, south of Maarat al-Numan and Deir al-Sharki, east of Maarat al-Numan. Thus, the Syrian regime forces managed to make advances on the axis of Deir al-Sharki.
The state-run Syrian Arab News Agency (SANA)confirmed that the Syrian Arab Armed Forces regained control of the villages of al-Samkha, al-Tah and Deir al-Sharki in the southeastern countryside of Idlib.
The National Liberation Front (NLF), through its social media networks, said that fierce clashes took place as a result of the regime forces' attempt to advance over the eastern Idlib countryside, which led to a number of deaths and injuries among the ranks of the regime forces.
On 16 January, the regime forces took control of the town of Abu Jarif in the eastern countryside of Idlib.
The Syrian regime continued to violate the "ceasefire" deal between Russia and Turkey.
Turkey had agreed with Russia on the implementation of the cease-fire on 12 January within the Idlib de-escalation zone in order to stop air/ground attacks, Turkey's Defense Ministry said on 10 January in a statement.
The opposition's Syrian Civil Defense documented targeting 22 areas with 55 airstrikes⁠—15 of which were carried out by Russian warplanes⁠—47 explosive barrels, in addition to 55 artillery shells, and 20 surface-to-surface missile launchers.
The bombardment took place also in the city of Maarat al-Numan, the towns of  Tell Mannas, Deir al-Sharki, Deir al-Gharbi, Hass, Hantutin, Benin, Ahsim, Babila, Kafr Rumah, Sarjah, Deir Sunbul, Mantef, Maar Shamshah, al-Hamidiyyah, al-Barah, and Farkya in the southern Idlib countryside, in addition to the city of Saraqib, and the towns of Mardikh, Khan al-Sabil, Maar Dibsah, and Maasaran in the eastern Idlib countryside.
if you think the article contain wrong information or you have additional details Send Correction