Syrian regime cut off M5 international highway in Syria's northwestern Idlib province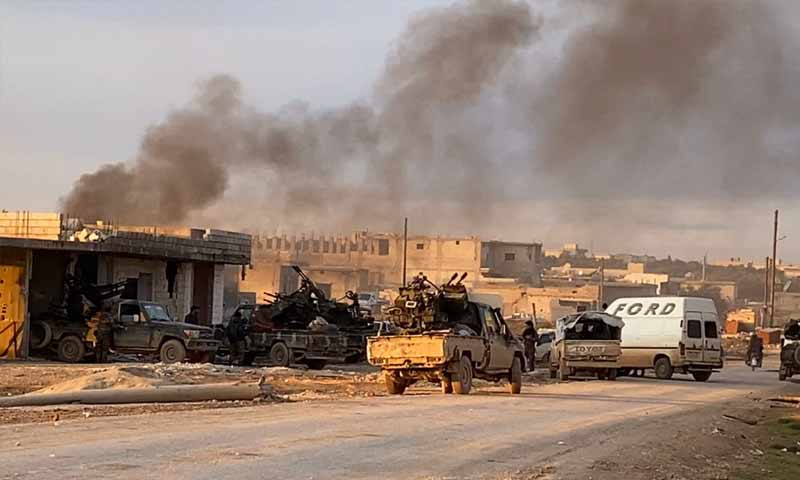 The Syrian regime forces have cut off the M5 international highway, which links the capital Damascus with the northern city of Aleppo after re-taking control of many towns on the outskirts of the city of Maarat al-Numan. 
The correspondent of Enab Baladi in the province of Idlib reported today, Monday, 27 January, that the Syrian regime forces established control over the rebel-held towns lying on the M5 international highway: al-Za'lanah, al-Dana, Babila, al-Sawamea, Tell al-Sheikh, Maasaran, and Roadko area, south of Khan al-Sabil.
According to the military map below, the Syrian regime forces are attempting to cut off the city of Maarat al-Numan from the northern countryside of Idlib, as they blockade the roads connecting between the cities of Maarat al-Numan, Saraqib and Ariha.
The progress made by the Syrian regime against the opposition elements in the key city of Maarat al-Numan is similar to the scenario of the city of Khan Sheikhoun in the southern countryside of Idlib. The Syrian regime forces are surrounding the city of Maarat al-Numan and avoiding direct entry to the major cities in the province of Idlib for fear of major resistance from the opposition factions.
Regime forces and their Russian ally are pursuing a scorched earth policy through conducting intensified bombardment with various types of weapons in the region.
The state-run Syrian Arab News Agency (SANA) announced that the Syrian regime forces captured the village of al-Dana, west of the international highway between Maarat al-Numan and Saraqib.
The National Liberation Front (NLF), for its part, announced that it targeted the al-Assad forces gathering with Grad rockets in the village of Tell Mannas in the eastern countryside of Idlib, which resulted in injuries.
The opposition's Syrian Civil Defence (SCD) in Idlib pointed out that military battles and clashes are still taking place between warring parties, amid continued shelling in the Idlib countryside. Besides, the Syrian regime warplanes carried out a thermobaric weapon attack on the city of Saraqib, causing the deaths of one man and injuries of 3 other civilians, including a child.
The SCD posted on its Facebook account that a man and his wife were killed as a result of deliberate targeting of SCD teams who were working to evacuate a family from the village of Bazabur in the southern countryside of Idlib with barrel bombs.
The military advance of the Syrian regime has been met by an inexplicable international silence especially from Turkey which is a guarantor of "Astana" talks with Russia.
A Turkey's intelligence delegation led by Hakan Fidan, the head of the Turkish National Intelligence Agency, met with leaders of the Syrian opposition factions, last week, and asked them to repel the progress of the regime forces.
if you think the article contain wrong information or you have additional details Send Correction