Syrian and Japanese protest in solidarity with Idlib in Tokyo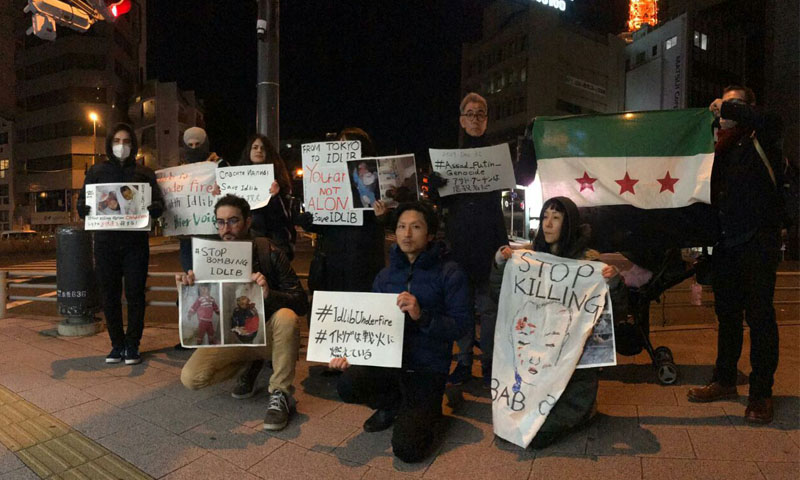 12 Syrian and Japanese activists protested in solidarity with Idlib nearby Russian embassy in Tokyo.
12 protesters, among who were 6 Syrians and 6 Japanese, gathered on New Year's Eve (NYE)31 December 2019, chanting anti-Russian and anti-Syrian regime slogans in the Japanese capital.
Takako Ikeda, a Japanese journalist, who stood in front of the Russian embassy several times on her own condemning the Russian crimes committed against Idlib, was among the protesters, as well as the archaeologist, Yayoi Yamazaki, who lived in Syria for a long time.
Speaking to Enab Baladi Najib El-Khash, a Syrian journalist residing in Japan, pointed out that Japanese police was very careful in how it dealt with the protesters, who got the permit to protest for only two hours – 17:00 p.m. to 19:00 p.m.
Accompanied by the police, the protesters were allowed to march to the Russian embassy in groups of 5 while the rest waited for their turn 200 to 300 M away.
Despite the small number of protesters, and the limited space protesters were provided with, the protest carried meaningful symbolic messages as protesters were supposed to be celebrating the NYE, said a protester who declined to reveal his name.
The southern and eastern countryside of Idlib has been subjected to intense airstrikes carried out by Russian-backed Syrian regime forces for the past days deliberately targeting essentials of life and civilian infrastructure: the Syrian Civil Defense (SCD), public markets, and first-aid centre.
located 15 kilometres southeast of Idlib, Sarmin was targeted by Russian airstrikes for the first time in months, according to the SCD and other observatories.
The intense airstrikes on Idlib were escalated since mid-December 2019, through which they gained control of 31 military posts and villages in the southern and eastern countryside of Idlib.
The escalation coincided with air raids on the city of Maraat al-Numan and its eastern countryside, leading to the displacement of 264,000 people to the border areas, as documented by the Syrian Response Coordinator Group (SRCG).
if you think the article contain wrong information or you have additional details Send Correction