Schools of Idlib camps left in ankle-deep muddy water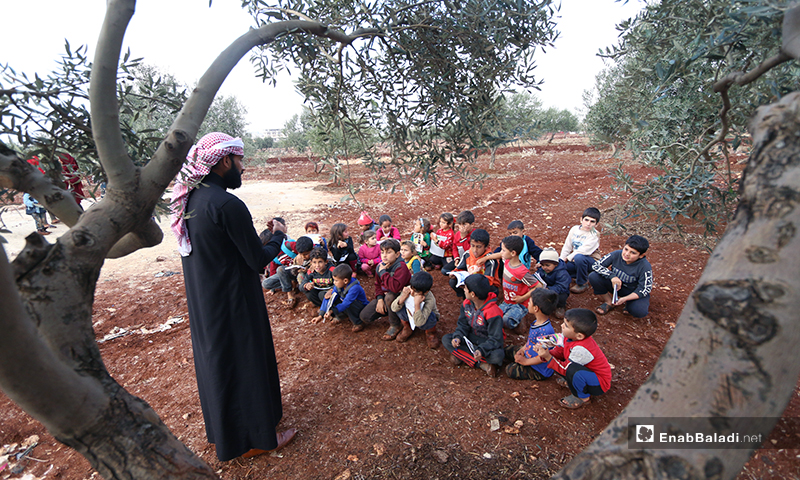 25 children sitting on the wet floor, holding their muddy books, listening to their teacher who is a leaning to an olive tree while pointing towards a small board.
This was not exactly the class that teacher Suliman Moussa wanted for his students, yet that was the only option he had in order to help them continue their education, as he told Enab Baladi in Senjar refugee camp nearby Sarmada in northern Idlib.
Wearing his summer t-shirt, Salah Munther, a student living in the camp, told Enab Baladi, while sitting in his class, about the severe weather conditions, and the difficulties brought by heavy rains and muds.
Heavy rains left the "Hudhayfah bin a-Yaman" camp nearby al-Dana town ankle-deep in muddy water, which blocked the students 2km way to school.
Speaking to Enab Baladi, Nasr al-Barjas, director of the camp, said "our students are diligent and hardworking… but no one is paying attention to us," pointing out that the school is too far, and it lacks books and curriculum.
Wall-less schools
In order to resist the lack of support and poverty in their camps, many refugees turned to carry out classes in open-air where no walls or pillars can be found.
Director of the Information Office of the Directorate of Education in Idlib, Mustafa Haj Ali, told Enab Baladi, that the directorate has no accurate statistics for the number of schools set in squatter camps and population centers in Idlib, due to the lack of financial support, yet the directorate estimated that there are more than 60 schools, according to Haj Ali.
The Directorate supervised more than 1194 schools in the province of Idlib before the broad military campaign waged since last February by the Russian-backed Syrian regime in the northern countryside of Hama and the southern countryside of Idlib.
The military campaign resulted in shutting down around 35o schools and displacing about one million persons to northern Syria.
Compulsory Truancy
105 of the closed schools were targeted with airstrikes and artillery shelling forcing education directorate to suspend other schools in Khan Shaykhun, Kafr Nabl, Maarat al-Numan, Saraqib, Jisr Al-Shughour, and Arihah.
While 410 thousand students were receiving education in Idlib's schools, only 250 thousand students are able to continue their education, amid expectations of an increasing number of school dropouts after cutting off the support of Chemonics International.
Two-thirds of students dropped out of their schools whereas 150,000 students are able to have access to education, according to the Director of the Information Office of the Directorate of Education in Idlib, Mustafa Haj Ali.
The directorate established the compound of al-Dana and Camps which includes the schools of Sarmada, al-Dana, Qah, Atmeh, Salbeh and Deir Hassan in the northern countryside of Idlib.
The schools, however, are in extreme need of support for securing logistic materials of desks, camps, books, and teachers' salaries, as the salaries of 10 thousand teachers in the province of Idlib were stopped and some of them continued to teach on a voluntary basis since the beginning of the year.
Haj Ali believes that the educational situation in rural Idlib has become "no less tragic than the military, security and social situation."
if you think the article contain wrong information or you have additional details Send Correction