Russian airstrikes violate Idlib ceasefire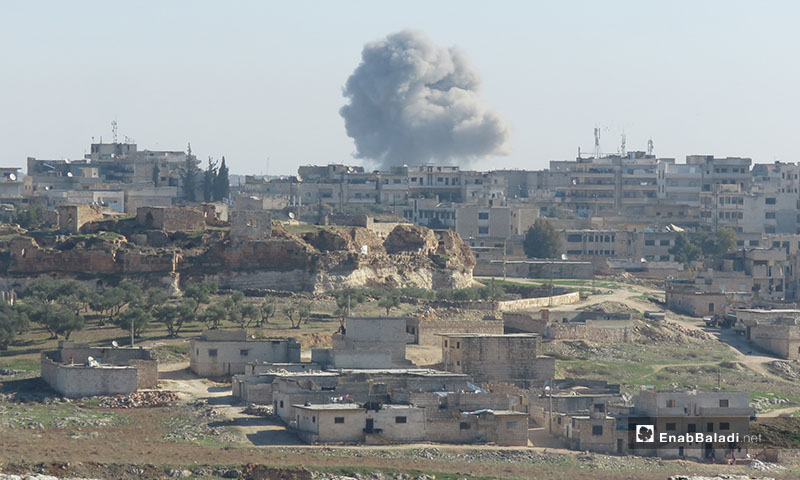 Russian warplanes mounted strikes on the vicinity of the international highway in northern city of Maarat al-Numan, despite the Russian-Turkish brokered ceasefire in Idlib, which came into effect on 12 January.
Enab Baladi's correspondent in Idlib reported today, Wednesday, 15 January, that the Russian airstrikes targeted the road connecting between the two villages of Maar Shurin and Khan al-Sabil.
The correspondent added that Russia has been conducting airstrikes since Tuesday evening, targeting the outskirts of the village of Dadikh in the southern countryside of Saraqib and the Harch Khan al-Sabil area.
The Syrian Civil Defense in Idlib stated on Facebook that the Russian warplanes targeted the village of al-Hertamiyeh in the eastern countryside of Idlib after midnight, which led to the destruction of civilian homes.
Turkey's Defense Ministry said on 10 January in a statement that it had agreed with Russia on the implementation of the cease-fire on 12 January within the Idlib de-escalation zone in order to stop air/ground attacks.
In a related context, a Turkish military convoy was forced to stop in the city of Saraqib for several hours due to the Russian bombing, according to Enab Baladi's correspondent, who explained that the convoy contained more than 15 military vehicles.
The correspondent pointed out that the Turkish convoy entered the Kafrlossin crossing in the northern countryside of Idlib with the aim of exchanging military personnel, equipment and supplies, as a routine procedure, between the military observation posts of Turkey in the region, noting that the convoy reached its destination after stopping in Saraqib.
The Syrian regime announced that it secured three "humanitarian" crossings in the districts of Hobait, Abu al-Zuhur, and al-Hadir in the eastern and southern countryside of Idlib, calling on the residents of the region to leave for the areas of its control as military operations stopped owing to the agreement with the Turkish side on the implementation of ceasefire in Idlib.
The Syrian regime's helicopters dropped leaflets over Idlib, after civilians refused to leave the crossings.
In the last two days, the Syrian regime spread news about the exit of many civilians from the crossings, which was denied by several sources in the area.
Within this context, the Director of the Syria "Response Coordinators" team, Muhammad Hallaj, earlier, denied to Enab Baladi the departure of any civilians from the three crossings, pointing out that regime and Russia published "fabricated" photos of the alleged exit of civilians.
The correspondent of Enab Baladi also monitored the movement at the al-Eis crossing in the southern countryside of Aleppo, opposite the al-Hadir crossing from the regime's side, stressing that no civilians left it, but that the movement was limited to the exit of trucks and commercial vehicles, as it is a commercial crossing.
if you think the article contain wrong information or you have additional details Send Correction