Residents of Aleppo fear "shabiha"militia are targeting their homes and properties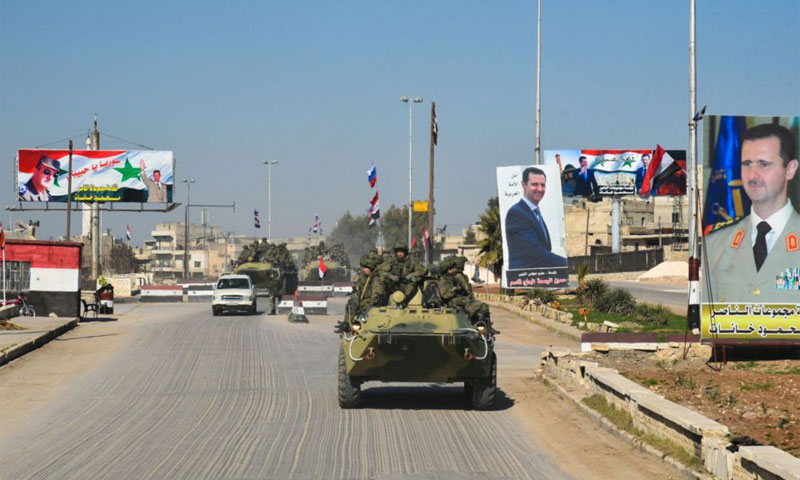 Local Facebook news pages issued warnings to the residents of Aleppo city, urging them not to leave their homes and properties if battles take place in the area in order not to be looted by the armed gangs of regime supporters, known locally as "the shabiha militia."
According to the correspondent of Enab Baladi, the regime has been mobilizing its forces inside the barracks and military sites in the city of Aleppo for a month.
The correspondent reported today, 24 January, that there is a state of anxiety, terror and fear among the residents of the city, especially those who live in neighborhoods near the points of contact with the opposition-held areas in the western countryside of Aleppo, where military operations are expected to flare up at any time.
He added that the residents of these neighborhoods are faced with two options: First, if they fled their homes, the Shabiha militia would loot them; and secondly, if they stayed at their homes, this would endanger their lives.
Al-Zahra Neighborhood News Network, a pro-regime Facebook news page, called on all the residents of the al-Zahra and New Aleppo neighborhoods not to leave their homes or at least to let one person stay at home.
The news network indicated that " there are some shabiha militia and thieves lying in wait to exploit the situation and rob every empty house they find."
Enab Baladi has monitored comments on the warning post of the Al-Zahra Neighborhood News Network on Facebook where dozens of people expressed their fear of the coming days, especially from robbing their homes.
The Syrian regime is expected to launch a military operation in the western countryside of Aleppo, aimed at re-gaining control over the international highway M5 after failed attempts to wrest control of it from the Idlib countryside.
The Syrian National Army (SNA) had reinforced its entire military front in the countryside of Aleppo, after military build-up of the Syrian regime forces in the area, according to the SNA spokesperson,Yousef Hammoud.
Hammoud told Enab Baladi earlier that "the SNA" monitored the arrival of reinforcements by the Syrian regime forces to the southern countryside of Aleppo, accompanied by heavy armored vehicles.
Hammoud added that the regime forces withdrew their members from several axes to send them to Aleppo countryside, especially from the coastal front and the eastern region.
Sputink, a Russian government-owned news agency, reported, in early January, that military reinforcements of the elements of the 4 Division entered the city of Aleppo, with the purpose of strengthening the southern and western front of the Aleppo countryside.
The Deputy Chief of the General Staff of the Syrian regime forces, Major General Salim Harba, confirmed on 21 December 2019 that "the people of Aleppo would witness great victories achieved by the Syrian Army after the upcoming Christmas and New Year."
Enab Baladi  previously documented in an investigation under the title "looting…the Syrian war custom" the involvement of the warring parties in looting civilian homes after controlling areas in military operations.
In an interview with a pro-regime al-Watan newspaper in January 2016, the President of the Syrian regime, Bashar Al-Assad, acknowledged that the phenomenon of "looting" depends on "the conscience of the people in the first ranks of the battles. There are no observers, no police, no oversight institutions. If this person is corrupt, he will harm the citizens, and if he is a man of conscience,then he will do the opposite."
Al-Assad said, " some looting cases were controlled despite the difficulty of controlling such cases under battle conditions. A few looters were caught in the back lines after an abuser or thief got arrested in some way. A few causes were controlled and I know them in detail, but there are other cases uncontrolled yet."
if you think the article contain wrong information or you have additional details Send Correction