Renewed shelling in rural Aleppo, amid ongoing wave of displacement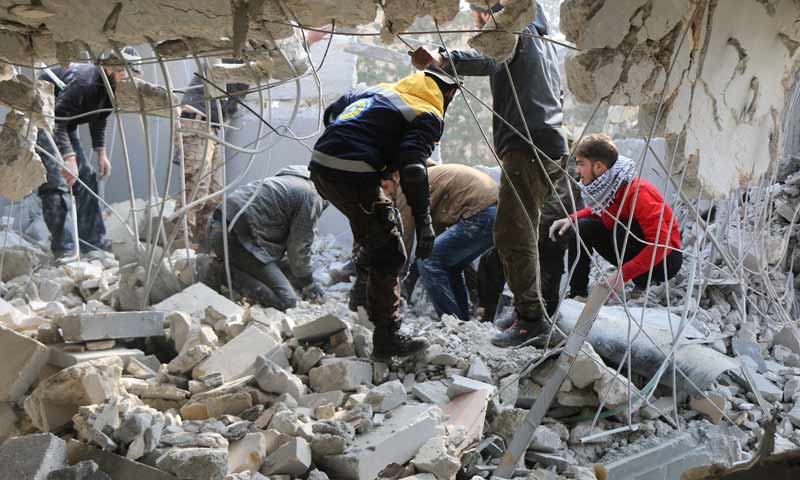 Backed by Russain air power, the Syrian regime forces have renewed their airstrikes against rural Aleppo, resulting in deaths and injuries of people, amid a continued mass exodus from the region.
Enab Baladi's correspondent reported that the warplanes targeted the district of Rif al-Muhandisin al'Awal in rural Aleppo on 18 January.
The Syrian Civil Defence in Aleppo announced that a 23-year-old man was killed in the bombing today as well as a whole family, composed of a father, a mother and two children, was killed in an airstrike on the Bala village in western rural Aleppo, after midnight.
According to Enab Balad's correspondent, the warplanes of Russian and Syrian regime forces targeted the western countryside of Aleppo at night. The outskirts of Darat Azza, Atarib, and al-Qasimia have experienced the most intense bombing, amidst the continued displacement of people from western rural Aleppo towards northern rural Aleppo, Bab al-Hawa crossing, and the city of Afrin, for fear that the regime forces would launch a military campaign. 
The Syrian Response Coordinators Group (SRCG) said via its Facebook account that "  displacement of civilians continues; people continue to flee from the southern and western countryside of Aleppo towards the areas of the Olive Branch, through the Ghazawiya crossing."
The fronts of the western and southern Aleppo countryside are tense due to the military build-up of the Syrian regime forces, which is matched by the mobilization and military-build up of the fighting factions.
The Syrian National Army's official Spokesperson, Youssef Hammoud, told Enab Baladi "there has not yet been any ground advance for the regime forces, which is why the Russians are targeting civilians as usual before any military advance."
On the other hand, the Syrian regime accused the opposition factions deployed in the western and southwestern outskirts of the city of Aleppo of targeting the Syrian regime-controlled neighborhood of al-Sakari with artillery, killing seven civilians and wounding 15 others, according to State-run news agency SANA.
However, Hammoud denied the allegation of the Syrian regime, stressing to Enab Baladi that the regime and pro-regime militias are behind these attacks on the districts of Aleppo city, aimed at leveling the accusation to the opposition factions.
A grim future awaits the residents of rural Aleppo, amid fears that the region will turn into a war zone, while the regime and Russia forces are signaling their control.
if you think the article contain wrong information or you have additional details Send Correction