Potholed roads pose major hazard for residents of Qoqfin village in rural Idlib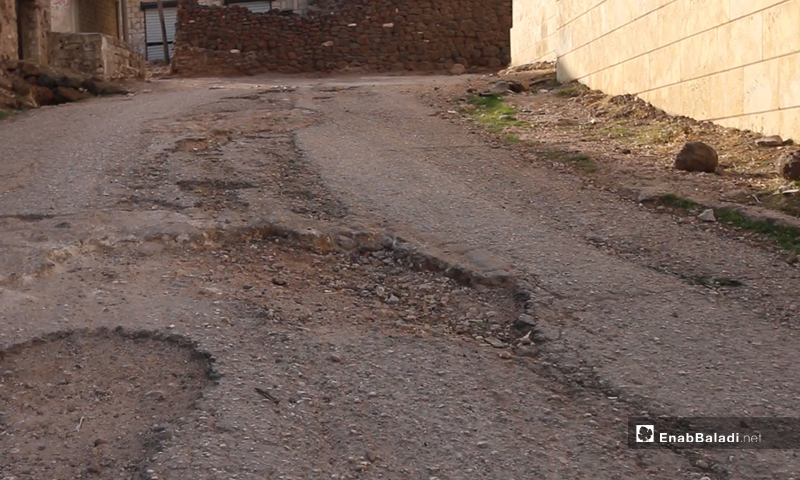 The residents of Qoqfin village in the countryside of Idlib suffer from the spread of potholed and unpaved roads throughout their village, which hinder the movement of vehicles and people between neighborhoods— yet the local council of the village has found no solutions for this problem so far.
The residents of Qoqfin village are not only confronted with mobility difficulties, but also some of them get hurt and damaged by potholes on the roads, in particular the old people when walking at night or riding a horse or a vehicle.
Through its program "what is your problem? —the program is broadcast on Mondays and Fridays on Enab Baladi's social media platforms—Enab Baladi surveyed a proportion of Qoqfin's residents about the problem of unpaved roads in the area.
According to the survey respondents, the number of accident-related injuries caused by poor roads was higher in the group of seniors. In fact, the old people move between the neighborhoods of the village either on foot or by using livestock as a means of transportation in the village such as horses and donkeys.
Furthermore, the rainwater fills the potholes which lead to the formation of big bowls of muddy water. Thus, people avoid passing through them in order not to trip and fall in. Potholes and poor roads cause damage to the vehicles of the drivers in the village every now and then; the drivers complain about the damages which increase in winter as well as the high cost of vehicle repairs.
A survey respondent pointed out that driving three kilometers in the villages is like driving 30 kilometers outside the village because of the unpaved roads, which compel drivers to slow down.
The residents of Qoqfin village held both the local council and the Salvation Government (SG) responsible for the road problem in the village.
The Head of Qoqfin's local council, Ahmad al-Akal, said that the problem is old and dates back to the days of the Syrian regime's control, explaining that the main road in the village connects the two areas of Jabal al-Zawiya and the Ghab Plain in Idlib countryside, and despite its importance, it was ignored.
Al-Akal highlighted that numerous calls were made by the local council to the non-profit organizations and relevant workshops to provide support to the council. However, the council did not receive a response while the council has no alternative plans.
Given the inability of the local council, the village residents undertook individual initiatives to carry out repairs to roads and fix potholes. However, they have come to the conclusion that to solve the road safety problem requires organized road maintenance workshops.
if you think the article contain wrong information or you have additional details Send Correction