Opposition factions of Idlib unleash military actions in axes of southern and eastern Idlib countryside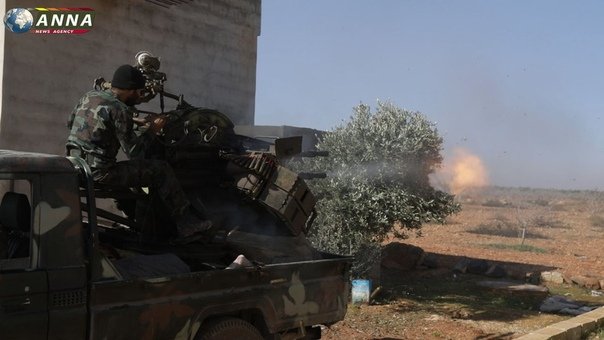 The al-Fateh al-Mubeen factions have announced the launch of a massive counter-attack against the positions of the Syrian regime forces in the axes of the southern and eastern Idlib countryside, with the aim of regaining lost military posts and villages in the past days.
On 2 January, the Hay'at Tahrir al-Sham (HTS)-linked news agency, Ibaa, reported that the HTS's fighters carried out a "martyrdom operation", targeting a grouping of the regime forces, west of al-Tah town in the southern countryside of Idlib, and resulted in the withdrawal of regime forces from the targeted area.
The counter-attack comes in an attempt by al-Fateh al-Mubeen to re-claim villages and military posts from the Russian and Syrian regime forces. Intense battles occurred in the eastern and southern axes of Idlib in the past two weeks, coupled with an escalation of Russian airstrikes on the city of Maraat al-Numan and its vicinity. This led to the emptying the targeted areas of their population.
The official media of the Syrian regime did not comment on the announcement of the opposition factions while pro-regime Facebook page reported today, 2 January, that "25th Division" affiliated with the regime forces carried out missile strikes on the positions of the attacking factions on the axes of the southeast Idlib countryside.
The state-run Syrian Arab News Agency (SANA) stated on Tuesday, 31 December that an officer and number of soldiers were killed in a missile strike that targeted "safe villages and towns" in the northern countryside of Hama, the town of Khan Sheikhoun and its surrounding in rural Idlib.
The Russian and Syrian regime forces escalated their attacks on the eastern and southern countryside of Idlib in the last two weeks. They carried out a ground operation on 19 December, in which they established control over an area of about 320 square kilometers.
The recent military offensive aims to re-capture the international highways and eliminate opposition factions, referring to the HTS, which are classified as "terrorist factions," by Russia. The offensive was the direct cause of the humanitarian crisis in the region, amid Turkey's silence.
On the other hand, the opposition factions posted videos documenting their intensified missile attacks on their official media outlets, in the past two weeks, in which they held a heavy offensive with "Tau" missiles targeting the regime's positions in the axes of rural Idlib and Latakia. As a result, scores of Syrian regime members, including officers, were killed as well as many tanks and military vehicles were destroyed.
if you think the article contain wrong information or you have additional details Send Correction