Mud and rain worsen plight for IDPs in northern camps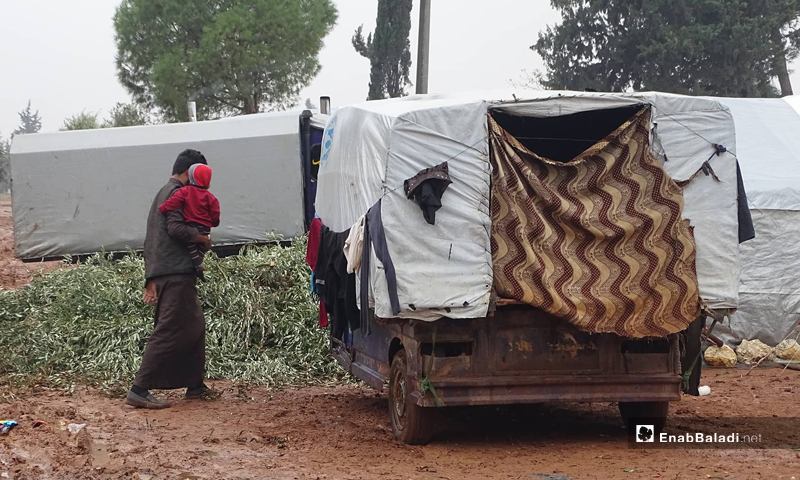 Aleppo countryside – Abdul Salam al-Mujaan
Wet clothes and nylon bags were thrown on the sides of IDP Hasan al-Hamad's three-wheeled vehicle, which is waggling on the unpaved road, in an uncommon scene in camps implanted in the mud. But, al-Hamad has found a reasonable solution to face the winter season.
Hasan al-Hamad, an IDP from the southern countryside of Idlib, transformed his small vehicle, known as "Trezina", into a mobile tent. The vehicle protects him from the wetness of the land in winter and its bitter cold, in the random refugee camp of Shakir, on the outskirts of the city of Azaz in the northwestern countryside of Aleppo. He turned it into a safe haven for him and his small family.
Hasan is not the only one to implement the mobile tent innovation, as winter rains and cold have become a "nightmare" for residents of the camps, which lack support and services, especially the random ones. These have increased lately and spread with the increase in the number of IDPs that followed the ongoing military offensive launched by the Syrian regime with the participation of Russia in the northern countryside of Hama and the southern countryside of Idlib, since the first months of 2019.
The number of IDPs since the beginning of this year exceeded 1,3 million people, according to statistics by the UN Office for the Coordination of Humanitarian Affairs. Since the military escalation in mid-December, the number of IDPs has exceeded 235,000 people, compared to 70,000 IDPs registered in November.
According to estimates by Response Coordinators, more than 1,8 million Syrians reside in about 1,153 organized refugee camps in northwestern Syria and about 242 random refugee camps.
Hasan lives in a camp he rented with 250 families on farmland. He recurrently moves with his tent around the camp, but he takes breaks from the fatigue of movement, sharing with his brother his fixed tent sometimes.
His tent lacks adequate comfort, as it is composed of iron bars that form a wide structure, which Hasan wrapped with cloth and nylon to give him "freedom" to move away from the dangers of torrents.
Others who own similar vehicles suitable for such a use adopt Hasan's protective method. However, more than 46,000 people still need refuge in the northwest of Syria, according to UN statistics issued on December 27.
Relief organizations target 405,000 people with their winter aid, but the funding allocated for the 2019 Humanitarian Response Plan until December 18, 2019, has not exceeded 9.6 percent of the required funding, amounting to $ 526.6 million.
if you think the article contain wrong information or you have additional details Send Correction