Joint artworks attract Syrian actors in Turkey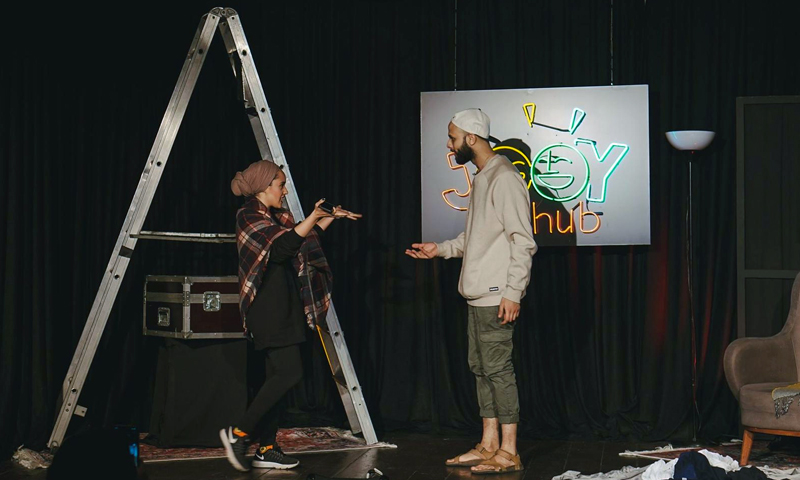 Evin KHALIL – "Mares" Training Program
"We have created our own micro-community within the community," said the young director Osama Salah.
Osama told us that he is working on a theatrical project in partnership with a group of young men and women from different Arab nationalities.
The project, launched in Istanbul under the title "Jooy Hup", is based on overcoming the distinctions between dialects, using one unified language as a common denominator as it is occurring in a host country because the excessive reliance on the local in the artwork will make it hard.
Syrian youths are actors in "Jooy Hup" project, which is directed by the Egyptian young director Osama Salah. They were able to break the idea of artwork with a local identity and discover the positive sides of the joint works.
Syrian actors in Turkey were not only attracted by joint theatre but also with dramas as well, which have constituted a suitable alternative to Syrian works.
Cultural diversity enriches the project
Rami Wattar, the young Syrian actor residing in Istanbul, did not face any problem with different dialects in his participation in artworks. "Cultural diversity contributes to the enrichment of the project as it provides new and different ideas," he said.
Rami, 26, and Aghiad Sheikhu agreed that this type of work unites everyone to serve a good purpose, namely providing meaningful art.
According to Aghiad, Syrian drama particularly needed blending with other cultures to produce new genres, because isolation in the art would not be in the interest of local productions.
Scarecrow of Syrian works
In addition to taking advantage of cultural diversity, the young Syrians wanted to escape typically Syrian works.
Rami Wattar could not find a well supported real work that does not offer political opinions. Indeed, due to the split in and outside Syria between "supporters and opponents", the drama makers have employed their works to highlight their affiliation and bias, so they produced works that showed the actor biased as well.
Thus, the young actor prefers not to engage alongside any conflict with any party, as he cannot predict the future.
Aghiad Sheikhu, who apologized for several Syrian works dealing with "war and power", also prefers awareness-raising works that highlight human issues.
According to Aghiad, at another level, joint artworks provide greater financial compensation. The idea of ​​a drama or theatrical work that contains different nationalities can reach a larger category of the audience and a wider spread in different countries to which the actors belong, which means a higher profit rate.
Rami summarized the hard financial situation actors may undergo, saying:  "As an actor, I have to be fully free so as to be dedicated to my artwork and this means being jobless, which turns into a big problem to me as a refugee in a foreign country."
Common works filmed in Turkey
In addition to the "Jooy Hup" project, which includes comic theatrical scenes held in Istanbul, with the participation of writers and actors from different Arab nationalities, a number of dramas were filmed in Turkey as a country that hosts a large number of citizens of Arab countries.
"Winter 2016" is the first Egyptian series to be filmed in Turkey, which is about A group of young people gathered on an escape trip through the southern Egyptian border to Sudan.
The Syrian actor Hammam Hout, the actor Ghalib Khouilid and the Tunisian actress Rim Jebnoun participated in this work.
The series "Bride of Beirut", also filmed in Turkey, is a Lebanese series that revolves around a love story that society rejects, with the participation of a group of Syrian artists such as Muhammad Al-Ahmad, Maram Ali, Doha Al-Debs, Lina Hawarna, Faik Erqsousi, and Ayman Arqsousi, along with actors from other Arab countries.
if you think the article contain wrong information or you have additional details Send Correction