Initiative to qualify 100 trainees to respond and prepare for disasters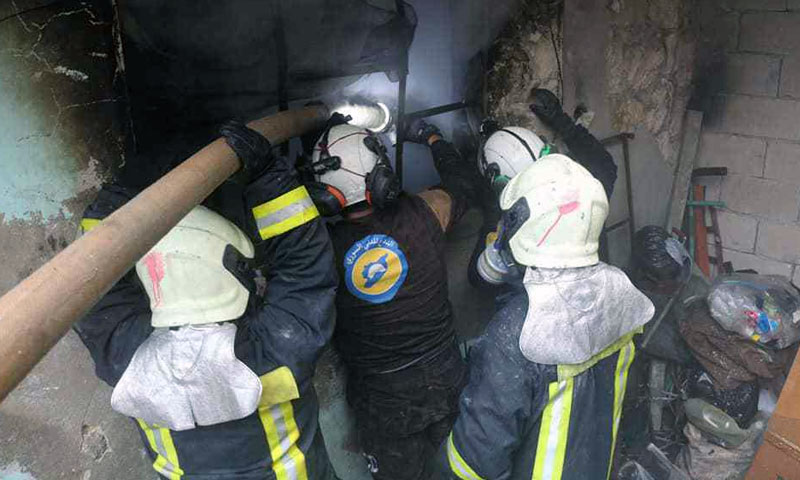 Enab Baladi– Idlib
Local organizations in the city of Idlib, northwestern Syria, launched an initiative to train 100 people to respond to and prepare for disasters as a first stage, following three levels, within the center of Midmar organization in Bab al-Hawa, northern Idlib countryside. The initiative aims at building the capacity of responders in ​​relief, emergency and rapid response fields in opposition-controlled areas.
The training axes are divided into disaster preparedness, disaster cycle, disaster management, risk analysis, safe access, psychological first-aid, emergency needs assessment, restoring family ties, health conditions in emergencies, water, and sanitation, as well as shelter and logistics.
The training targets humanitarian workers and volunteers from the local community, in addition to providing training and accommodation costs, the campaign administration confirmed to Enab Baladi.
The administration is currently studying the mechanism to launch the training, after submitting affiliation applications that will be subject to "filtering" by the training authority, through a questionnaire to know the level of the trainees. This will allow the trainee to have a training course commensurate with his experience. The training is divided into three levels (beginner, intermediate and advanced), explained trainer Mamoun Kharbut (regional coach for disaster management and preparedness) to Enab Baladi.
The trainer added that the exercises will be provided to everyone's level because people who have no prior knowledge of the basic principles can contribute to the response operations (after completing their training within the next initiative). These persons are mainly from the local community, and they will develop themselves with other exercises, not necessarily with our assistance.
Members of the intermediate and advanced levels of training, who work in the humanitarian and relief field, will receive new and practical experience in the field of the response. After this training, future training for new people can be provided according to the agreement with the international organizations.
The initiative aims to reach the largest segment of trainees and workers in relief organizations to train them on and build their capacity regarding emergency response and sustain their social role.
Mustafa Hajj Yusef, Director of the "Civil Defense" Directorate in Idlib, told Enab Baladi that the disaster in northern Syria could not be faced even by states, referring to the great need for workers in the rapid response sector, as well as evacuations and relief. "As Civil Defense Directorate, we carry out our duty in the beginning with emergency response (search, rescue, relief, emergency and firefighting operations) and evacuations from the bombed areas to the safest places on the Turkish border," he said.
Hajj Youssef told Enab Baladi that the "Civil Defense" has centers located in all the "liberated" areas in four directorates (Aleppo, Lattakia, Idlib, and Hama). He insisted that 280 of its members were killed across Syria.
if you think the article contain wrong information or you have additional details Send Correction