IDPs launching their projects in Deir Hassan camp in Idlib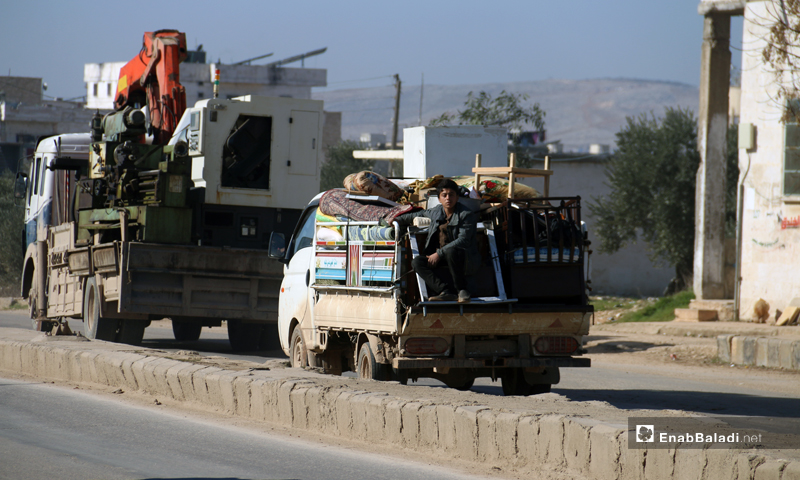 Idlib – Youssef Gharibi
"I arrived at the camp and borrowed a sum of money. I bought land on which I built a house and a small shop with which I started my project." With these words, Mohammad Khalid, a blacksmith from the city of Khan Shaykhun, described how he resumed his work in the area of ​​displacement.
When Mohammad decided to move from his city, he tried to transfer as many tools as possible from his shop. He then resumed his work in Deir Hassan camp after about a month, as has been the case with several other IDPs who managed to open small projects in the camp, in the northern countryside of Idlib.
Mohammad Ibrahim al-Darwish, from Shashabo Mountain, has also opened a foodstuff store in the same camp.
Mohammad al-Darwish was displaced in April 2019 due to the bombing, and he moved his business to the camp to provide foodstuffs for the rest of the IDPs and to earn a living.
After arriving at the camp, Mohammad al-Darwish rented a store and started shopping goods from al-Dana or Sarmadā markets, or through wholesale distributors who frequently go to the camp.
About the conditions of establishment, Mohammad said, "I suffered a little at the beginning. The environment of the place is not suitable for work, and the services' costs are high. We hope to return to our areas soon."
The economic researcher, Mulham al-Jazmati, considered these projects as an innovative case that arose to meet the needs of the community residing in these areas. This is a reasonable case because the community always needs requirements.
"The place of the IDPs who move to a certain area turns into a market that includes small projects providing the needs of this community, and these projects are to grow," said Mulham al-Jazmati to Enab Baladi.
He considered that "the Syrian is an innovative person, and Syrian refugees in Turkey and Europe are good examples for that."
He called those who have a small capital to find innovative ideas stemming from the needs of the region, to calculate well their expenses and profit margin and to launch their projects.
The researcher also called on civil society organizations to secure an incubating environment for Syrian entrepreneurs inside the camps, not to collect taxes, but to help business owners organize their businesses.
There are 1,153 camps in the northwest of Syria, including 242 random camps, according to figures issued by the Syria Response Coordinators team at the beginning of this year. About one million people are living in these camps.
if you think the article contain wrong information or you have additional details Send Correction