"From Idlib to Berlin".. Call for demonstration on Syrian-Turkish border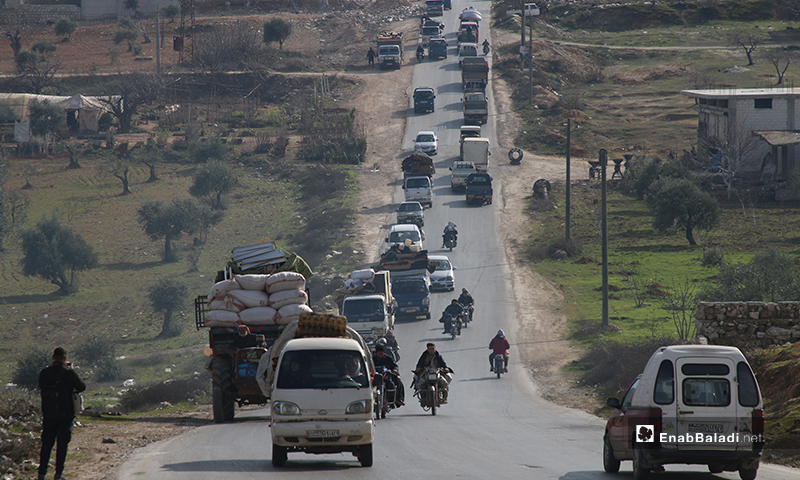 Activists on social networking sites yesterday, Thursday, 30 January, openly called for a demonstration near the Syrian-Turkish borders on Sunday, 2 February, to condemn the Russian and the Syrian regime bombing on the southern countryside of Idlib province and deliver the voice of the displaced persons in the area.
The demonstrations, titled "From Idlib to Berlin," aim to shed light on the sufferings of Idlib residents and their inability to find a safe shelter, after the Syrian regime forces, backed by Russian warplanes, escalated their airstrikes and deliberately targeted civilians, and hospitals in Idlib.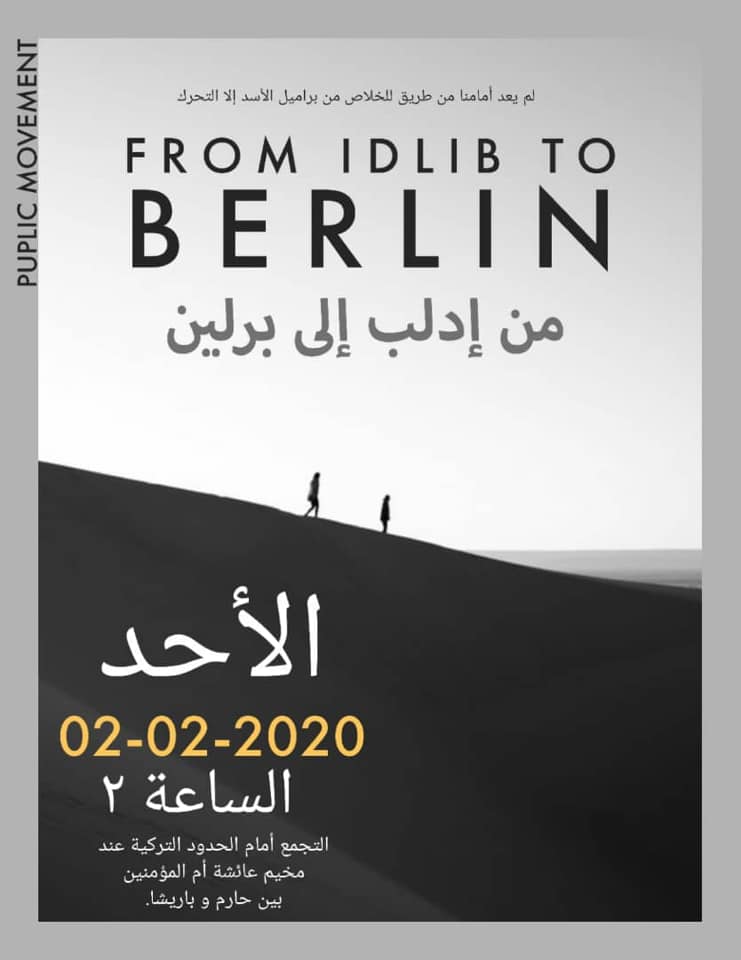 The demonstrators will gather at the camp of "Um al-Mouminin" between the city of Harem and the village of Barshia in northwestern Syria, in front of the Turkish border, adjacent to the Turkish town of Reyhanlı.
The activists pointed out that "the Turks are not enemies," explaining that their goal is to cross through the Turkish territories to European countries. The residents of Idlib are left only with two options, either "being killed by bombing or seeking secure shelter in Europe."
Moreover, the activists called for cooperation between the demonstrators and the opposition factions. They also asked the demonstrators not to create any sabotage acts or riots and stay in the area chosen to demonstrate. The demonstrators should also stay away from the humanitarian crossings, considering them "arteries to relieve pain."
Hassan al-Ahmad, the director of the media office in the Syrian Civil Defence (SCD) in Ariha, told Enab Baladi that Russian raids targeted the town of Ariha on 29 January, killing 11 people and wounding 67 others.
The Russian warplanes also conducted three airstrikes on the "al-Shami Hospital" in Ariha directly, according to what was reported by the SCD.
The SCD published a recording showing the destruction inside the hospital, which rendered it out of service. Thus, the southern countryside of Idlib has become free of any medical point.
Backed by the Russian air force, the Syrian regime forces captured the city of Maarat al-Numan in the southern countryside of Idlib on 28 January, after the bombing campaign described by activists as "hysterical and intense."
At the same time, fierce battles took place in the past few days on the outskirts of Maarat al-Numan.
The regime forces' control of the city of Maarat al-Numan and the ongoing airstrikes on the areas of Idlib city have created a massive wave of displacement.
The "Syrian Response Coordinators Group" documented that 13,000 persons and 449 families ( with a total of 77,494 people) have fled the violence in Ariha, Saraqib and Khan al-Sabil.
if you think the article contain wrong information or you have additional details Send Correction