Five members of one family killed in airstrikes on Saraqib in eastern Idlib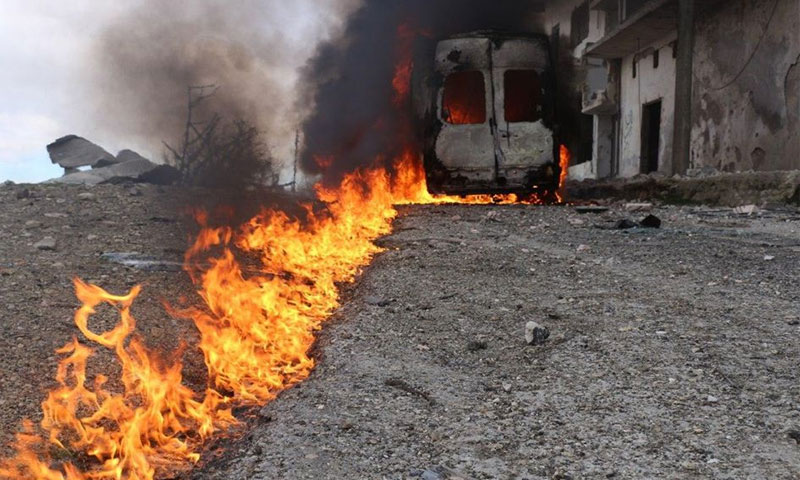 Five internally displaced persons (IDPs) of one family were killed in an airstrike on the city of Saraqip in the rebelled-controlled province of Idlib in north-western Syria.
The Head of the opposition's Syrian Civil Defence (SCD) in Saraqip, Laith al-Abdullah, told Enab Baladi on Thursday, 23 January, that the Russian warplanes have carried out airstrikes on the eastern area of Saraqip city, targeting an IDP camp.
Al-Abdullah confirmed that the dead were all from one family, including three children, a woman, and a man, in addition to five wounded, including three children, a woman and a man as well.
The Syrian Civil Defence indicated today that eight civilians were wounded, including six children, as a result of "double-tap" airstrikes by the Russian air forces on the town of Ariha.
Another airstrike targeted Syrian Civil Defense volunteers that were heading to assist the injured at the site of the bombing, which led to the destruction of their ambulance. However, the volunteers managed to escape the bombed-out ambulance, according to the SCD.
A woman and two children were killed in airstrikes by the warplanes on the village of Arnaba in Jabal al-Zawiya, in the southern Idlib countryside, last night, amid deliberate targeting of civilian-inhabited areas in the province, according to the Civil Defense.
The shelling continues in the villages, cities, and towns of the southern Idlib countryside and western Aleppo, in attempts by the regime to make military advances on the international highway "M5," which links the provinces of Aleppo and Damascus, and passes through the depth of Idlib governorate.
Yesterday, the Syrian Response Coordinators Group (SRCG) counted the numbers of civilian causalities that occurred as a result of the Russian and Syrian regime airstrikes on Idlib in as well as the numbers of people displaced due to the intensive military operation in the province since 14 January.
The recent airstrikes have caused the deaths of 73 civilians, including 27 children, six-woman, 39 men and one humanitarian relief worker since 14 January of this year, which means, from the first day that followed the implementation of the ceasefire agreement signed between Russia and Turkey.
Turkey's Defense Ministry said on 10 January in a statement that it had agreed with Russia on the implementation of the cease-fire on 12 January within the Idlib de-escalation zone to stop air/ground attacks.
if you think the article contain wrong information or you have additional details Send Correction