Enab Baladi's correspondent denies US forces' evacuation of Al-Omar oil field in Deir Ezzor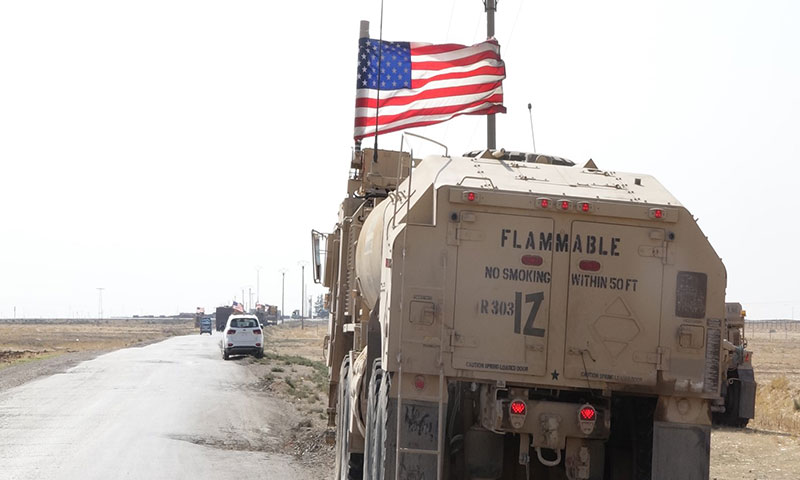 Enab Baladi's correspondent in rural Deir Ezzor denied what was reported by Syrian and Russian media outlets about the withdrawal of US forces from the al-Omar oil field in the province.
Al-Watan, a Syrian daily newspaper, reported on 8 January that the US has started evacuating its forces from Al-Omar oil field and Koniko gas plant.
Meanwhile, Russia Today, a Russian international television network funded by the Russian government, pointed out that the withdrawn forces are heading to the military base of the US in the town of al-Shaddadi in the southern Hasakah countryside.
On 8 January, Enab Baladi's correspondent pointed out that many US military helicopters were taking off and landing in the al-Omar oil field.
However, the US forces' movement aims to reinforce their military presence in the oil field through increasing military supplies.
The US considers that one of the greatest gains it achieved in its war against the self-declared Islamic State (ISIS) was the control of the oil fields in eastern Syria, which were the major revenue maker for ISIS.
The Al-Omar oil field, located in the eastern countryside of Deir Ezzor, is the largest oil field in Syria and its production before 2011 was about 30,000 barrels per day.
In addition, it includes a gas power plant and electricity power station.
In the past few years, dozens of airstrikes by the Global Coalition to Defeat ISIS hit the al-Omar oil field, which led to its great damage.
At the end of October 2017, the Syrian Democratic Forces (SDF), backed by the Global Coalition, took control of the field after fierce battles against ISIS.
On 6 October, US President Donald Trump announced, after the withdrawal of his forces from northeastern Syria, that "a small number of US troops will remain in the areas where they have oil."
On 7 October 2019, Trump indicated that his country will take its share of Syrian oil.
The US Department of Defense (the Pentagon) announced that the US would strengthen its military presence in northeastern Syria, with the aim of protecting oil fields from falling back into the hands of the so-called ISIS.
if you think the article contain wrong information or you have additional details Send Correction