After making gains without geographical control, is ISIS able to return to Syria?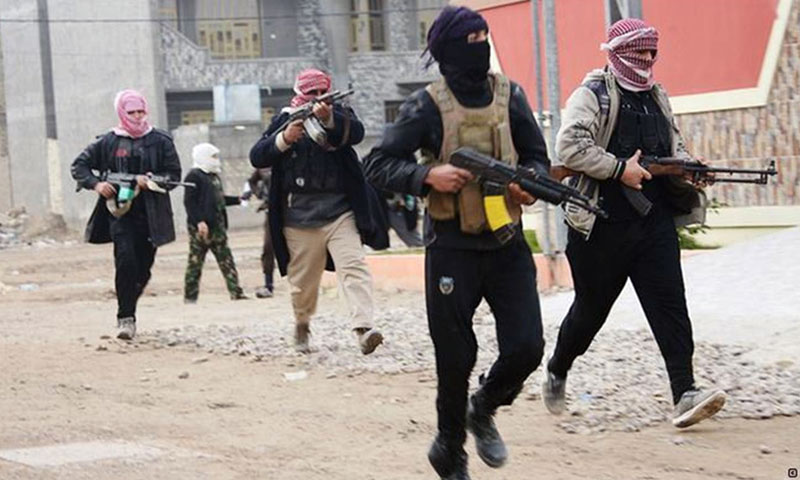 Enab Baladi – Ali Darwish
The shadow of ISIS had barely disappeared in the media circles to return through several new operations, bombing, targeting elements and blocking roads in front of the various military forces deployed on Syrian territories.
On January 23, the pro-ISIS News agency "Amaq" published a statistic of its operations, which amounted to 16 during a week (between 16 and 22 January of this year) on Syrian territories, and targeted sites, elements and officers of the Syrian regime forces and the "Syrian Democratic Forces" (SDF).
The attacks were centered in the governorates of Raqqa, Deir EZ-Zor, and al-Hasaka, killing 58 elements of the regime and "SDF," including officers and leaders.  Deir Ez-Zor was subject to 11 attacks, while al-Raqqa witnessed 3 operations, and al-Hasakah two operations, in addition to 15 operations in Iraq, according to ISIS statement.
Media continuity
In an interview with Enab Baladi, Nawar Shaaban, Information Unit Manager at Omran Center for Strategic Studies, explained that ISIS has worked hard on its military continuity, through assassinations and multiple targets, and has been very active in issuing data. It was also early to adopt any operation for several goals, since the loss of all the geographical areas that were under its control, in Syria.
The organization's goals focused on the repeated announcement of operations, and the adoption of operations that it may not be responsible for, especially in the areas of the SDF control, by directing a speech to its popular incubator on an ongoing basis, in addition to sending threatening messages to its opponents, trying to intimidate others and taking advantage of the spoils.
ISIS has admitted conducting more than ten operations against SDF and the regime, in the governorates of Deir Ez-Zor, Raqqa, Homs and al-Hasaka, during the first two weeks of January 2020.
According to Shaaban, the bad security situation in Syria and Iraq helped to create an appropriate favorable atmosphere for ISIS to be active.
Can ISIS take control of new areas?
ISIS currently adopted a rapid targeting method and hitting positions behind the enemy's lines of defense, because it cannot control new areas as before, since the fall of its last strongholds in the Hajin sub-district of al-Bukamal, in March 2019.
This method is strategic at this stage because the other parties can hardly target it, according to Shaaban.
After every operation, ISIS delivers a positive message to his incubator around the world (as it expresses himself as an organization that is not separated by geography). We notice the spread of his statements in several languages to achieve its strategic goal, whether it is a limited or large-scale operation. It may also control a site for hours or a day and then withdraws.
However, the organization cannot currently control lands, and does not search for it, because it does not work randomly, but rather adopts a clear mechanism in all countries, not only in Syria, with different goals and values.
Shaaban said that the security situation in Syria and Iraq is very fragile due to a "security shake." Consequently, the organization will increase its military activity, as the social, political, military and security conditions pave the way for the return of the cells of the organization, but not their control.
Indications show that ISIS is at its weakest situation, and has no geographical area under its control, but it can carry out operations targeting groupings, columns, damage mechanisms, and control spoils. Shaaban asserted that logistically it is difficult to fight or wage military action on an organization with unknown geographical areas.
The Autonomous Administration of North and East Syria (NES) warned, through a statement on January 7, against the return of ISIS. It called for the establishment of an international court to try the organization's fighters who are arrested in its prisons.
According to the statement, ISIS has more than 10,000 fighters, in addition to tens of thousands of their families from more than 50 countries.
The statement considered that "establishing an international court procedure in the areas of the Autonomous Administration, in light of the availability of evidence, witnesses and victims, must take place, and there must be international cooperation in this file as it is the responsibility of the whole world."
On the other hand, the US special envoy to Syria, James Jeffrey, said that his country did not notice an escalation of ISIS activities in Syria and Iraq, during a press conference held on January 23, 2020.
US General Alexus Grynkewich, the second leader of the Global Coalition Against ISIS, warned of the possibility of ISIS's return in case of the withdrawal of US forces from Iraq, indicating that the organization can reappear if the pressure is removed for a long time.
if you think the article contain wrong information or you have additional details Send Correction