Two leaders of Tahrir al-Sham (HTS) killed with American Ninja missile in Idlib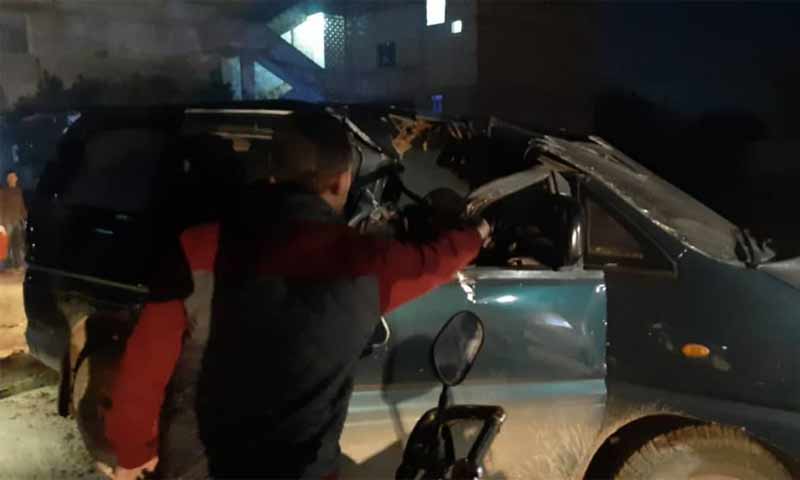 The US military is believed to have killed two Hayat Tahrir al-Sham (HTS)-linked leaders with precision 'Ninja' missile in the town of Atme in northern Idlib on 3 December. 
Images of the Ninja missile fragments shared on social media show that the sword-like blades of the missile breached the surface of the leader's truck and killed him and the passenger sitting next to him. This has been the second reported use of the missile since 2017 in the area.
This fragment is reported to have been found at the site of what may have been an RX9 (Hellfire with frikken swords) strike.

If you looks closely, you can see what appear to be hinges, as well as being and twisted projections from those hinges.

H/T @obretix, who found this. pic.twitter.com/db7ZOE6S1x

— Nick Waters (@N_Waters89) December 4, 2019
Abu Ahmad al-Muhajir
Abu Ahmad al-Muhajir was killed in a raid last Tuesday. Al-Muhajir was a high-profile trainer at the central military academy of the HTS, according to a paper found next to his body—he used to carry it in order to pass through military checkpoints.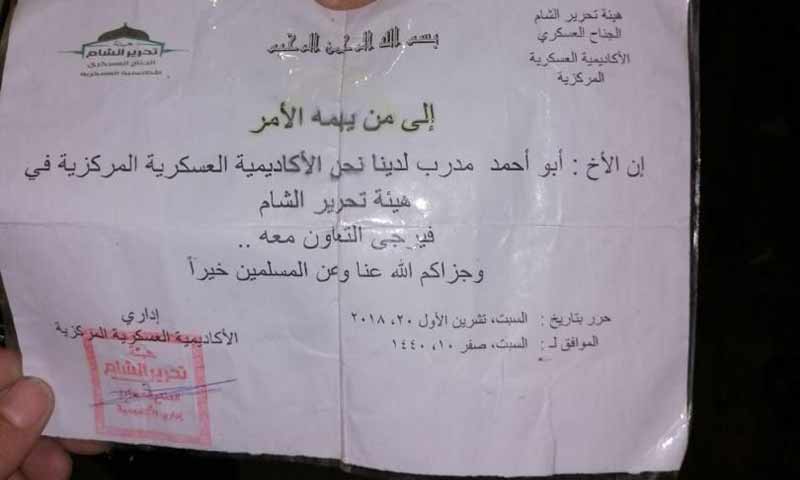 Little is known about al-Muhajir except that he was one of the trainers of an elite forces within HTS, known as the "the Red Bands."
"The Red Bands (RB)" was named after Abu Dujana, a senior companion of the Islamic prophet Muhammad, who was wearing a red band that distinguished him in battles. 
The HTS prompted the fighters of the RB as professional fighters trained in all martial arts. According to the HTS, the fighters of RB operate behind enemy lines and their names are highlighted in attacks targeting sites for al-Assad forces in the provinces of Idilb, Hama and Aleppo.
The elite fighters within the HTC received military training from the "Islamic Black Water" company, also called "Tactical Epics."
"Islamic Black Water" company was founded by fighters who came from Russia and former Soviet Union (USSR) countries. Most of its trainers served in the special forces of their countries, headed by "Abu Salman Belarus," a former senior assistant in the Russian Special Forces.
 Abu al-Khair Al-Masri
Ahmad Hassan Abu al-Kair al-Masri, the deputy leader of al-Qaeda, was assassinated in an airstrike carried out by the Central Intelligence Agency (CIA) with a secret missile near al- Mastouma military camp in rural Idlib in February 2017.
The media outlets reported that al-Masri was a leader in the HTS while the HTS denied that.
His full name is Abdullah Mohammad Ragab Abdul Rahman and he was born in northern Egypt in 1957.
Al- Masri was listed on the US terror list in 2005. He entered Syria in 2016. Some Jihadists' affiliate accounts pointed out that he was responsible for logistic affairs and the movements of "al-Qaeda operatives" who carry out external missions. He also worked in the late eighties as part of a group of al-Qaeda supporters in Egypt.
 What are "Ninja" missiles?
Assassination "Ninja" missiles, developed from the AGM-114 "Hellfire", rely on rotating blades upon collision. The "Ninja" missile is designed to penetrate more than 100 pounds (45.4 kg) of metals, instead of exploding, to kill a target without harming civilians and nearby property. 
"Ninja" missile is only used on certain occasions, especially when the location of an important "terrorist" leader is being identified very precisely. "Ninja" missile was designed during the Administration of President Barack Obama, to avoid loss of civilian life during American military campaigns held in Afghanistan, Pakistan, Iraq, Syria, Somalia, Yemen and elsewhere.
Ninja" missile is rarely used for legal and moral considerations. Moreover, the use of a secret 'Ninja' missile negatively affects supporting the strategic goals of the United States." 
The United States Department of Defense has only used it six times, in carrying out offensive in Libya, Syria, Iraq, Yemen, and Somalia, according to a report by the American newspaper "The Wall Street Journal" last June.
Regarding the latest strike, the British newspaper Telegraph reported on Wednesday 4 December, that the US-led international coalition denied carrying it out.
Telegraph quoted Nick Waters, a former infantry officer and an investigative journalist at Bellingcat, saying "this strike is very distinctive and although the coalition have denied carrying it out, it is possible that other US agencies not under the control of the coalition, such as the CIA, may have carried out this strike unilaterally."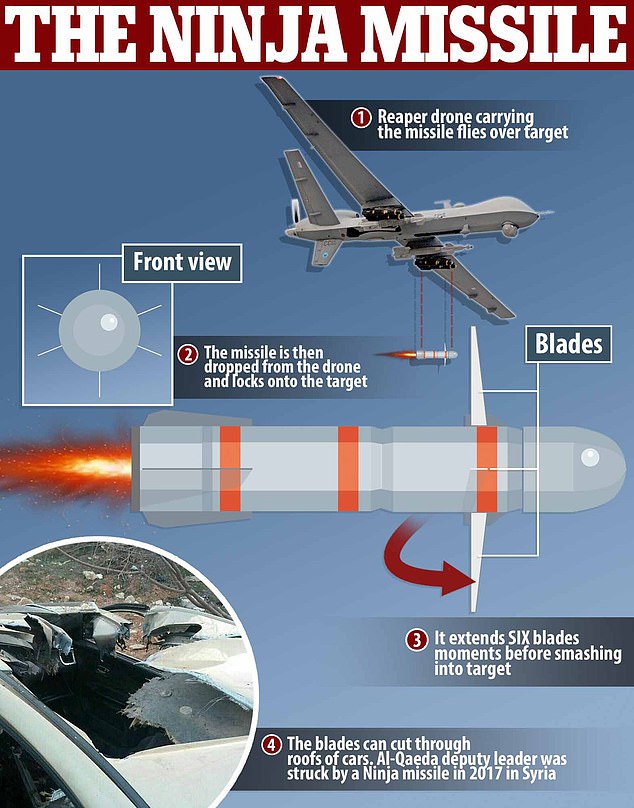 if you think the article contain wrong information or you have additional details Send Correction