The professor of La Casa de Papel in Idlib camps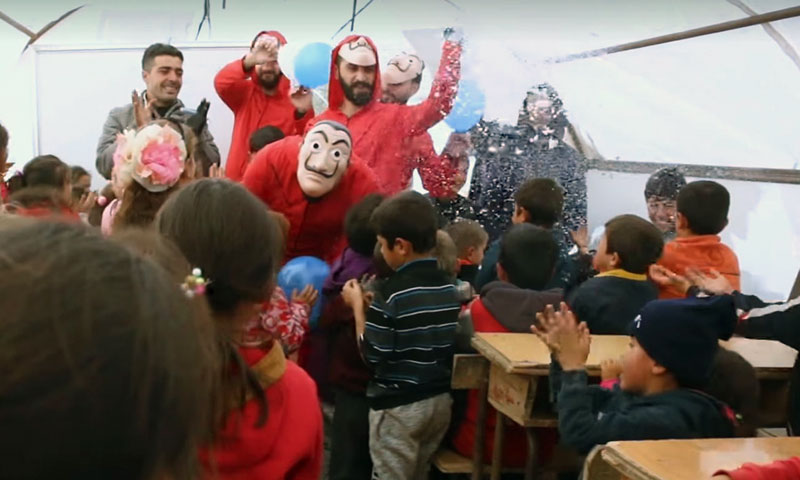 On 5 December, Molham Volunteering Team (MVT) announced that it held a recreational event on 24 November in the al-Sultan camp in the town of Killi, northern Idlib province.
An incursion took place in the al-Sultan camp, in which MVT members broke into the camp in an operation that differs from those normally carried in the region. Members of the MVT dressed up as characters of "La Casa de Papel", or "the Professor", to surprise the children of the camp.
Innovative marketing strategy
Director of the MVT, Atef Na'noua' told Enab Baladi that the team ordered "The Professor" costumes online and sent them to Syria. The team did their best to imitate the series characters according to Na'noua'.
The event started with a meeting of the team members that was presented on the professor's way, in which each member was introduced and then, they carried out robbery on a truck on the highway, driving it towards the camp and surprising the children of the camp.
The event was held to drag the world's attention to the Syrian children living in camps, and to promote the new website that was established by MVT, according to the director of the team.
The team built a new website, and named it "Molham Events", through which donors can contribute to the team events, such as birthday and graduation parties and other events that can be held with the children and their families in the camps.
The MVT members' admiration for the "professor" inspired the idea of associating the event with the series, so they took advantage of the success of the series to "wipe out the children's pain" according to Na'noua'.
Na'noua' concluded that although the team tried to communicate with the creators of the series and failed, they will keep trying, especially that the creators are interested in seeing the positive impact and the success of their series around the world.
What is "The Professor" series? 
The series premiered in 2017, in two parts that revolve around a long-prepared, multi-day robbery of the Royal Mint of Spain to print hundreds of millions of euros, in a shrewd plan.
The first season of "The professor", consists of two parts and revolves around the professor who recruits 8 robbers. They pull off the biggest heist in history under a shrewd plan.
The series was a great success, which led the creators to produce the third season and release it in 2019.
The third part tells how the robbers gathered again for another heist to raid the gold reserves held by the Central Bank of Spain. The fourth season is scheduled to be released exclusively on the American network "Netflix" at the beginning of next year 2020.
if you think the article contain wrong information or you have additional details Send Correction