Syrian Interim Government with plan to inject Turkish banknotes in rebel-controlled areas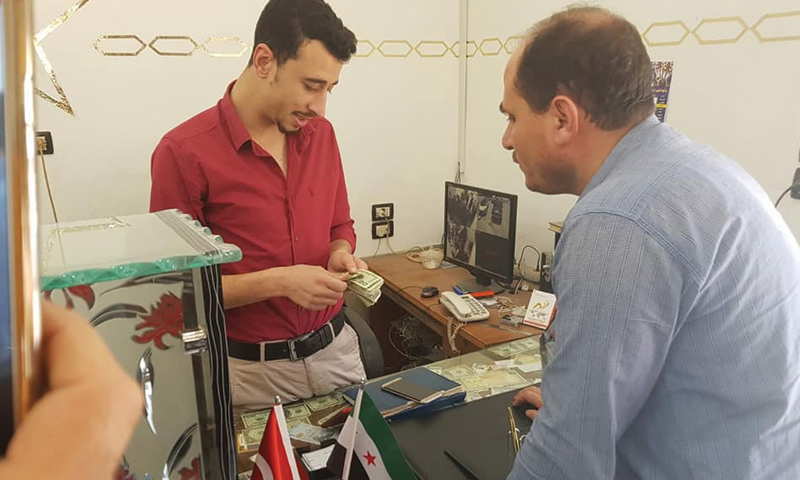 The Syrian Interim Government (SIG) is willing to inject Turkish banknotes of small denominations in the markets of the areas it administers in northern Syria to "preserve the purchasing power of the citizen".
Abdul Rahman Mustafa, the head of the SIG, said that "the government is willing to inject Turkish banknotes of small denominations of 5, 10 and 20 liras into the northern Syrian markets".
This step comes in order to preserve the purchasing power of citizens, maintain their money and property, and facilitate daily transactions, Mustafa said on his Facebook page on Sunday, 8 December.
Mustafa's proposal coincided with the plummeting of the SYP against the USD, as it hit a new low of 950 SYP to USD, and it slightly improved again.
According to the website of Syrian Pound Today, the exchange rate reached 740 SYP per USD to sell and 750 SYP per USD to buy.
Reducing dealing with the Syrian currency
Enab Baladi contacted Abdel-Hakim al-Masri, the Minister of Economy in the SIG, to clarify the reasons behind dealing with foreign currency in northern Syria.
Al-Masri said that there are already foreign currencies in those areas, such as Turkish lira and USD that people deal with.
There is an attempt to reduce dealing with the SYP, especially the denomination of 2000 SYP, due to the problems facing those dealing with it, according to al-Masri, who pointed out that if there should be any foreign banknotes, we should inject small denominations.
Moreover, if the SIG provides these banknotes, people will be capable of dealing with foreign currencies without exchanging it to SYP, according to al-Masri.
Dealing with SYP will continue in those areas, al-Masri said, and that is due to the fact that employees, peasants and other deal with the Syrian currency, yet they have to reduce dealing with it.
Enab Baladi could not verify that the Turkish lira will be injected into the Salvation Government (SG)-controlled areas in Idlib.
if you think the article contain wrong information or you have additional details Send Correction