Saudi Aramco denies any activities in Syrian oilfields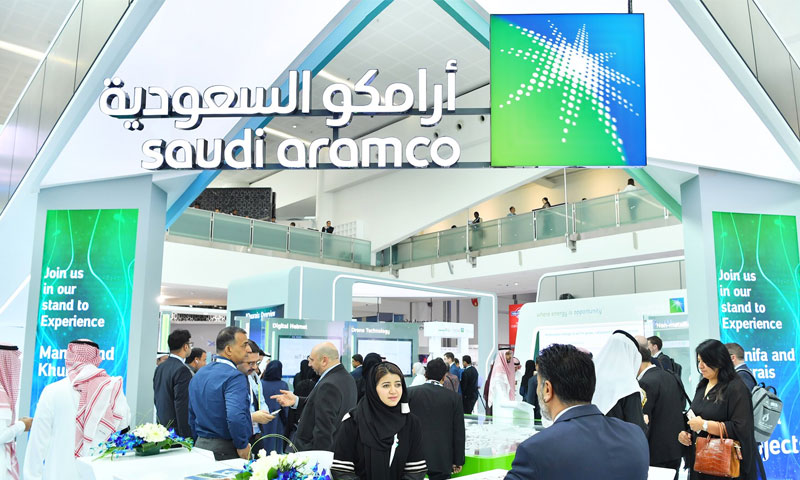 The Saudi Arabian Oil Company, commonly referred to as Aramco, denied sending a delegation of experts and consultants to oil fields and wells in the eastern Syrian city of Deir Ez-Zor.
In response to questions by email from Enab Baladi, Aramco's Corporate Communications Department confirmed, on 20 December 2019, that the company is not conducting any activities in Syria.
"We assure you that Saudi Aramco is not involved in any mining, production or other investment activities in Syria," according to the company's communications department.
In December 2019, local and international media outlets reported that a delegation of Aramco experts arrived in an official mission to al-Omar oilfield in the eastern Deir Ezzor countryside.
Known as one of the largest oil companies in the world, Aramco has the world's second-largest proven crude oil reserves, at 260.2 billion barrels of oil. The reserve is estimated to last for 54 years, with a daily oil production of 10.3 million barrels of oil, and is mostly exported to the Asian market.
According to Anadolu, the Turkish news agency, 15 Egyptian and Saudi petroleum engineers arrived at al-Omar oilfield that is controlled by the American-backed Syrian Democratic Forces (SDF).
The Anadolu Agency reported, on 16 December, that a group of engineers and technicians arrived at the region, on 13 December, in American helicopters, in an official mission to develop and rehabilitate the oilfield and train workers to increase the field's production of oil.
Deir Ezzor 24, a local news network, also reported, on 14 December 2019, that Saudi Aramco had sent an official delegation to al-Omar oilfield in the eastern countryside of Deir Ezzor.
"The investment will be made through contracts signed by Aramco with the US government, whose forces control most of the oil and gas fields northeastern Syria," according to Deir Ezzor 24.
Al-Omar Oilfield 
Located in the eastern countryside of Deir Ezzor, al-Omar is one of the largest oilfields in Syria, with a daily oil production that reached 30.000 barrels of oil before the outbreak of the Syrian conflict.
Al-Omar also has a major gas facility and a power plant. The oilfield was severly damaged during in past years as it was targeted by the US-led Global Coalition after it fell under control of the "Islamic State" (ISIS).
The SDF, backed by the Global Coalition, managed, in October 2017, to gain control over al-Omar oilfield following heavy clashes with ISIS.
US secures its share of Syrian Oil
The US considers gaining control over oilfields in eastern Syria as one of the most hard-won achievements in the war it waged against ISIS, as oilfields were the major source of revenue for ISIS.
On 6 October 2019, US President Donald Trump pulled back US forces from the north-eastern Syrian regions, excluding a number of American soldiers who remained to "secure" oilfields.
Announcing the death of ISIS leader Abu Bakr al-Baghdadi, Trump said, on 27 October, in a speech to the nation, "we don't want to keep soldiers between Syria and Turkey for the next 200 years. They have been fighting for hundreds of years. We're out. But we are leaving soldiers to secure the oil. Maybe somebody else wants the oil, but there's a massive amount of oil."
Trump pointed out that the U.S is securing oil for a number of reasons, "number one, it stops ISIS, because ISIS got tremendous wealth from that oil. We have taken it. It's secured. Number two—and, again, somebody else may claim it, but either we will negotiate a deal with whoever is claiming it, if we think it's fair, or we will militarily stop them very quickly."
The US controls major oil and gas fields in eastern Syria, such as al-Omar, the largest oilfield in Syria, and al-Tank, the second largest oilfield in Syria, located in al-Shaitat in the eastern countryside of Deir Ezzor.
Kuniko gas field, in the northern countryside of Deir Ezzor, the biggest gas facility in Syria, and a crucial power plant, is also controlled by the US.
Al-Omar, al-Tank and Kuniko's daily oil production reaches between 140.000 to 150.000 oil barrels, while it used to produce 386.000 oil barrels per day in 2010, when Syria's consumption was about 250.000 barrels per day, according to the BBC and Business Insider.
if you think the article contain wrong information or you have additional details Send Correction