Maaret al-Numan on the edge of humanitarian catastrophe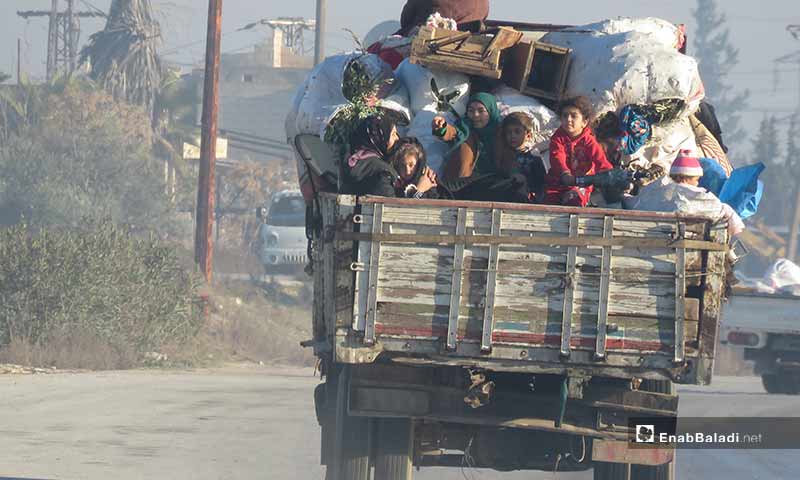 Local organizations in Idlib have called on international community to put a stop to what it described as the "catastrophe" taking place in the district of Maaret al-Numan and its country side in southern rural Idlib where the Russian-backed Syrian regime is escalating the conflict.
Muhammed Hallaj, head of Syrian Response Coordinators Group (SRCG) said, on 20 December, that Russian escalation of airstrikes in the district of Maaret al-Numan and its eastern countryside has led to the displacement of civilians from the region.
Speaking to Enab Baladi, Hallaj said, "we are facing a crisis in finding suitable shelters for the refugees who are now living on the streets and in agricultural lands, which prompted local entities to prepare mosques to receive numbers of the displaced."
Some of Maaret al-Numan residents are still trapped in their houses under intense bombardment.
Mustafa Haj Youssef, director of White Helmets civil-defense agency in Idlib, said that "the situation in Maaret al-Numan is catastrophic, the crisis is above the capacity of local organizations; it is extremely difficult to transfer the residents and their luggage to safer areas due to lack of financial capacity and the unavailability of transportation."
"We are sending distress calls to local and international organizations to assume responsibility for the ongoing humanitarian crisis in Maaret al-Numan which is considered to be the largest crisis in the area for years," according to Haj Youssef, who pointed out that Syrian civil defense mobilized its rescue teams to transfer the displaced from the district.
Activists sent their distress calls through videos they uploaded on social media sites, in which they called on the international community to save the residents trapped in Maarat al-Numan and its countryside.
There are fears of an upcoming cold wave that will intensify the suffering of the refugees staying under extremely harsh conditions, on the streets and in camps at the borders, according to Hallaj.
The SRCG documented the displacement of more than 175.000 people from southern countryside of Idlib towards the border areas in the countryside of northern Idlib and Aleppo, according to Hallaj, who said that the residents of Marrat al-Numan, estimated at around 100,000 people, are entirely displaced.
An unprecedented military escalation by the Syrian regime and Russia is taking place in the region where forces are advancing on the eastern and southern axes of Idlib.
if you think the article contain wrong information or you have additional details Send Correction