Maaret Al-Numan evacuation brings new individual and collective initiatives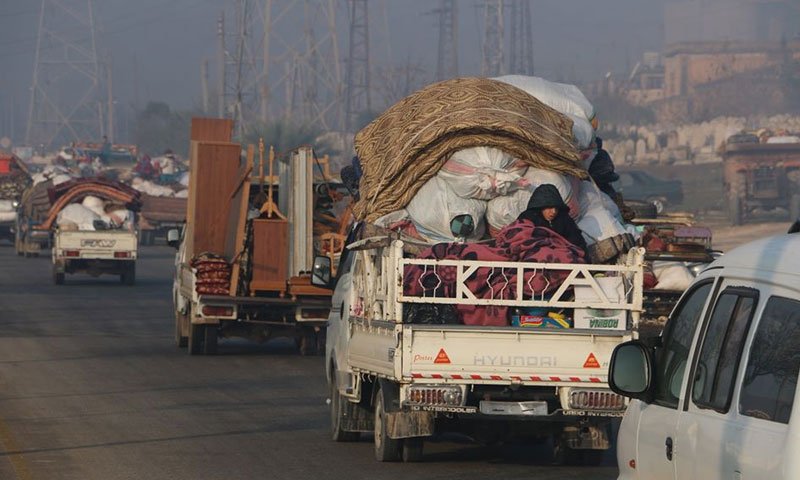 From late November until 19 December, more than 109,408 civilians (19,989 families) fled their homes in the opposition-held areas in the southern countryside of Idlib, Syria Response Coordinators Group (SRCG) said, after airstrikes and heavy shelling by Syrian government and its backer Russia intensified.
The internally displaced persons (IDPs) are living under extremely harsh conditions, without adequate shelter; on the streets and under trees, resulting in a worsening humanitarian situation further exacerbated by cold wet weather.
This has prompted the residents of Idlib and the northern countryside of Aleppo to launch humanitarian initiatives (both individual and collective).
Hotline
Speaking to Enab Baladi, Fouad Sayyed Issa, spokesperson of the Violet Organization (VO), a relief organization operating in northern Syria, said that "most IDPs do not have transportation vehicles." Consequently, they escape bombardments either by walking on feet or riding in a car.
The VO evacuated 1,550 people from the city of Maaret al-Numan in only six hours and transferred them to temporary shelters (mosques, homes, hotels, stores, fields) as the organization activated the hotline service to connect families in need of shelters to local councils and civic events.
The VO accelerated its efforts in Idlib to address the immediate needs of the recent wave of the displaced, in which it opened four centers that can accommodate 4500 people, supplied with heating devices, blankets, and drinking water.
Rescue teams were mobilized, while the organization provided meals, medicines, food supplies and other essential materials for the displaced spending nights on the streets. Bread, water and food baskets were also distributed for those capable of making it to different centers of different organizations.
Civic initiative
The owner of an automobile repair shop in Idlib pledged to repair all the automobiles heading to Maaret al-Numan to transfer its residents for nothing in return.
Some of Idlib and rural Aleppo's residents found places for the displaced to stay at, some of which were temporary, and some were permanent. Fields were also given for the sake of setting up tents, according to Mohamed al-Omer, an activist in Idlib.
A group of activists also shared phone numbers of car owners who volunteered to transfer the displaced at any time and for free. Confectionery shops and food stores also announced through Facebook posts that their stores would be opened for the displaced to get goods for free.
With a 4 million population, the city of Idlib, its countryside, and the countryside of Aleppo are suffering from high population pressure. The recent military campaign waged against Idlib and Hama countryside by the Syrian regime and Russian forces has triggered large-scale displacement from different areas since last February. Furthermore, some opposition-held areas fell under Assad's regime control after the so-called settlement agreement concluded in the past two years where a large number of people were displaced in Idlib province.
Despite the truce declared in late August, the Russian-backed Syrian regime intensified its airstrikes over Maaret al-Numan and its countryside with various types of weapons, killing dozens of civilians, while thousands were trapped in the district.
Systematic military escalation
The Syrian Civil Defense said in a statement, on 19 December, that Russian warplanes are deliberately targeting the bare essentials of life and civilian infrastructure in Maaret al-Numan and its countryside: the Syrian Civil Defense, an emergency center, markets and building of the electricity company were hit.
A humanitarian crisis is threatening the lives of more than 100,000 civilians residing in the region due to the constant bombings that target their automobiles when they attempt to escape the violence in search of shelter outside the danger zone, according to the Civil Defense.
Maaret al-Numan strategically sits on the M5 international highway, which Russia is determined to capture in order to secure the highway linking the capital, Damascus with Aleppo, either by military operations or through agreements signed with Turkey, such as Sochi agreement, signed on 17 September 2018.
if you think the article contain wrong information or you have additional details Send Correction