Leishmaniasis spreads rapidly in Deir Ezzor infecting hundreds of children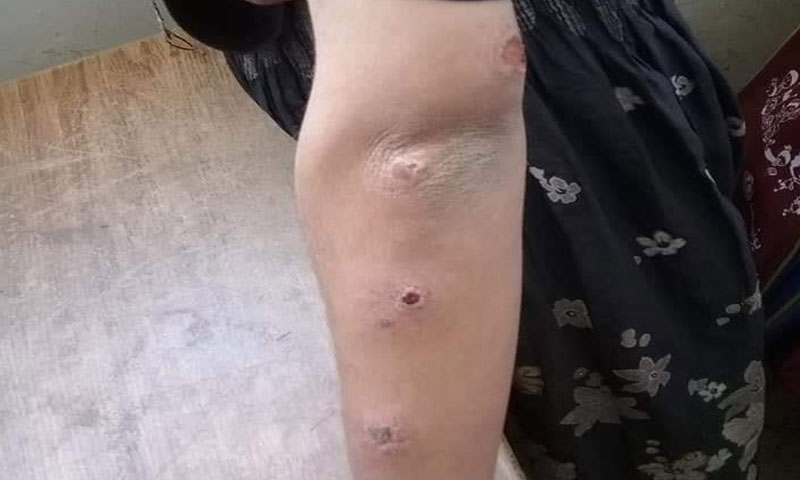 Leishmania disease is spreading widely among residents of Deir Ezzor, and especially children. Some of areas affected are controlled by the Kurdish self-administration while others are under the control of the Syrian regime. Medical sources counted hundreds of infected civilians and confirmed the disease's rapid spread.
According to Atef al-Tawil, a manager of Leishmania & Environmental Health Programme at the Syrian regime's Ministry of Health, most infections in eastern Deir Ezzor are spread among school children.
In a Facebook comment on a post by Twasol agency, al-Tawil claimed that cases of Leishmaniasis were detected, at the end of November,  in primary schools in eastern Deir Ezzor and its surrounding villages (al-Jalaa, al-Salihiyah, al-Tawtha, al-Abbas, al-Mujawdeh, al-Hasarat, al-Saial, al-Ghabrah).
According to al-Tawil, 455 infections of children were detected. A treatment team of 10 members was formed in the affected locations, to help control the disease to aid in early detection.
The Syrian Ministry of Health acted after several appeals by civilians residing in the area as they noticed the disease spreading among their children.
Al-Tawil said that this rapid spread was due to the fact that all the infected people have lately returned to their original areas which lack medical centers.
Autonomous administration areas
According to Euphrates Post network, Leishmaniasis is also widely spread in areas controlled by the Syrian Democratic Forces (SDF).
In its post on Sunday 1 December 2019, the network claimed that the spread of Leishmaniasis is mostly concentrated in the eastern countryside of Deir Ezzor.
According to the network, unofficial statistics by the SDF-affiliated local council shows more than 7,000 Leishmaniasis infections among children in al-Baghouz, Hajin, Diban, al-Sha'afa, al-Kishkiye, Abu Hamam, Gharanij.
The local councils' attempts of controlling the disease are still substandard, according to the Euphrates Post.
The network also quoted doctors and nurses calling for international organizations to interfere and provide hospitals and clinics with the required vaccine, and to train specialized medical staff in each clinic to deal with the disease.
The autonomous-administration-affiliated media center in Deir Ezzor also confirmed the spread of Leishmaniasis, and pointed out that the authorities took actions, by the end of November, to provide treatments.
According to the media center, special medical teams and cadres were distributed among the clinics to provide 12,000 ampoules of the required vaccine to treat Leishmaniasis with the support of the World Health Organization.
Leishmaniasis is a parasitic disease transmitted by the bite of infected female phlebotomine sandflies—a very small yellow fly that is active at night and makes no sound when it bites—and the main cause for its spread is dirt and lack of hygiene.
if you think the article contain wrong information or you have additional details Send Correction