Leader of "Baath Commandos" survived an assassination attempt in Damascus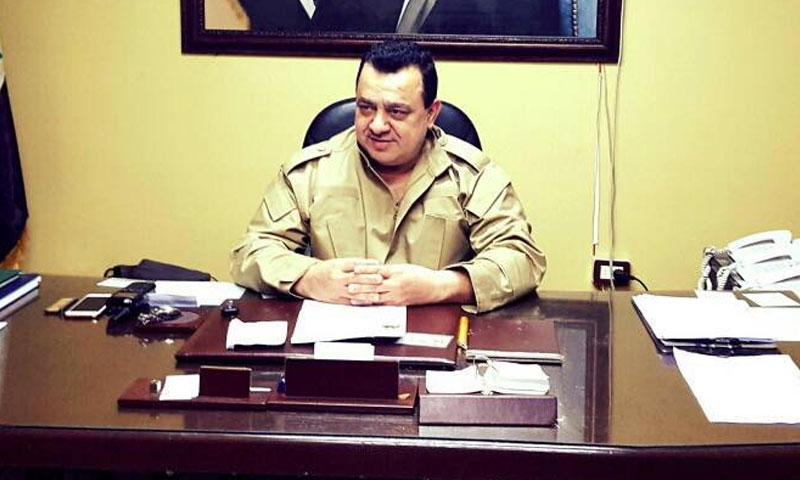 The leader of the pro-Syrian "Ba'ath Commando Regiment" Jihad Barakat, was subjected to a failed assassination attempt with an improvised explosive device, detonated near his house in the area of Musbaq al-Suneh in the district of Barzeh in Damascus.
The media page of the "Masaken Barzeh News Network" posted on Facebook that "the leader of the Ba'ath Commando regiment was the object of an assassination attempt at the hands of treacherous terrorists through an improvised explosive device detonated next to his house. That resulted in material damage only," according to the news network.
Jihad Barakat was born in Qardaha town in 1964. Barakat has a family relationship with the President of the Syrian regime, Bashar al-Assad. He is married to Intisar, the daughter of Badi al-Assad.
On 17 May 2015, Barakat was appointed leader of the "Baath Brigades" in the province of  Rif Dimashq to assume his duties in "cleansing it of the desecration of terrorism as well as supporting the army of the Syrian regime in its military operations in Rif Dimashq," according to the official narrative of the Syrian regime.
Barakat received a commemorative shield after the decision of Brigadier General Suheil al-Hassan to cancel the military contracts of 6500 troops in the "Ba'ath Commandos" deployed throughout Syria.
At that time, Barakat announced on his Facebook page that "the military operations conducted by Ba'ath forces are completely over."
The "Ba'ath Commandos" are made up of civilian volunteers fighting alongside regime forces under the name of "Allied Militias," which was dissolved in June 2018.
if you think the article contain wrong information or you have additional details Send Correction