Iran turns eastern Syria into an arena for combined US and Israeli aerial operations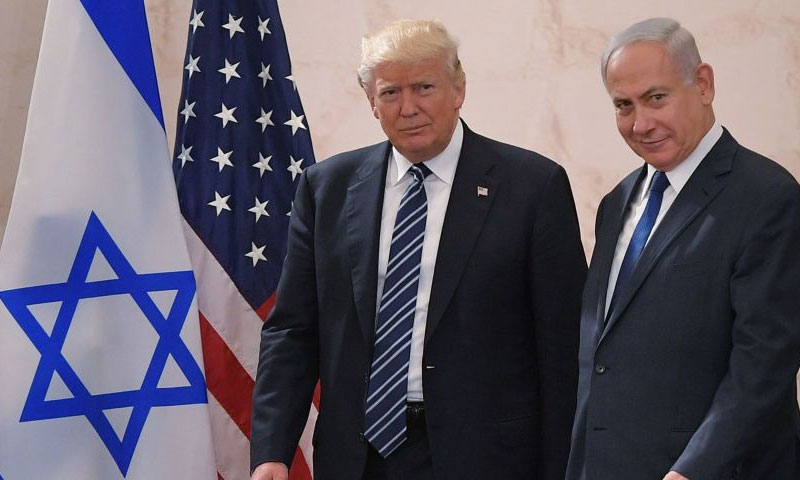 Iranian militias headquarters in eastern Syria was targeted with an airstrike nearby al-Bukamal, which lately turned into an arena for joint US and Israeli aerial operations.
The airstrikes took place several hours before the head of the Israeli Ministry of Defense, Naftali Bennett severely threatened the Iranian militias in Syria.
On Sunday, 8 December, Israeli Debka website said that the air strike of Saturday, December 7, was the fourth in a campaign attempting to "break up the al- Qods strategic hub which houses Iraqi Shiite militias outside al-Bukamal near the Iraqi border".
The airstrike, according to Debka, does not only aim to stem the flow of arms convoys from Iraq, but also to destroy the buildings of the militias in order to put them permanently out of commission.
In its report, Asharq al-Awsat newspaper said that the US stands behind the airstrikes in al-Bukamal.
Asharq al-Awsat quoted Israeli intelligence sources, on Sunday, 8 December, saying the US targeted an "Iranian hub" in al-Bukamal in response to 5 rockets that targeted the American airbase, Ain Assad in western Iraq in the beginning of December 2019.
5 rockets landed, on 5 December, on Ain Assad air base, the second largest airbase in Iraq, and one of the most important air bases hosting the US forces in Anbar province in western Iraq, an Iraqi military statement said, with no casualties reported.
The details and results of the raids were unclear until Sada al-Sharqieh network published, on Sunday, 8 December, pictures of two Iranian militias who, it said, were killed in the raids that targeted the Iranian hub in al-Bukamal.
Israel threatens
Debka described eastern Syria as an "arena for combined US and Israeli aerial operations".
Iranian militias are becoming very active in al-Bukamal, in which new Iranian bases are being built, bringing in logistic equipment from Iraq through Qaem border passage that is controlled by Iran.
The Israeli Minister of Defense, Naftali Bennett, said in a press conference reported by the Israeli newspaper Makor Rishon on Sunday, 8 December, that "we say to them (the Iranians) that Syria will be their Vietnam. You will bleed until your forces quit Syria!"
A number of vehicles carrying food supplies and tents entered, on 4 and 5 December, through al-Bukamal border crossing, in which they stopped for a couple of hours until a military convoy received the supplies and took them to the headquarters of the Iranian militias in al-Bukamal, according to Sada al-Sharqieh network.
Iranian Bavar-373
By the end of 2017, and with the support of Russian and Syrian regime forces, Iran gained control of areas in Deir Ezzor countryside after its clashes with the "Islamic State" (ISIS), and attempted at strengthening its troops presence in those areas.
Asharq al-Awsat newspaper reported, on Sunday, 8 December, that Tehran recently deployed the advanced Bavar-373 air defense system at the large T-4 air base eastern Homs, in Syria.
The road-mobile surface-to-air missile system can detect targets or planes at the range of 250 km, with an attached radar for tracking aerodynamic targets within a range of a radius of 350 km.
And according to the paper, a new Iranian defense umbrella covers eastern Syria, including the Iraqi borders, Deir Ezzor, al-Quds bases and Iraqi pro-Iranian militias stationed there.
Iranian state television showed President Hassan Rouhani attending an unveiling ceremony for the Bavar-373 system, in August 2019, and described it as a "domestically built long-range, mobile surface-to-air missile system".
if you think the article contain wrong information or you have additional details Send Correction