11 civilians killed in market bombing in Maraat al-Numan in Idlib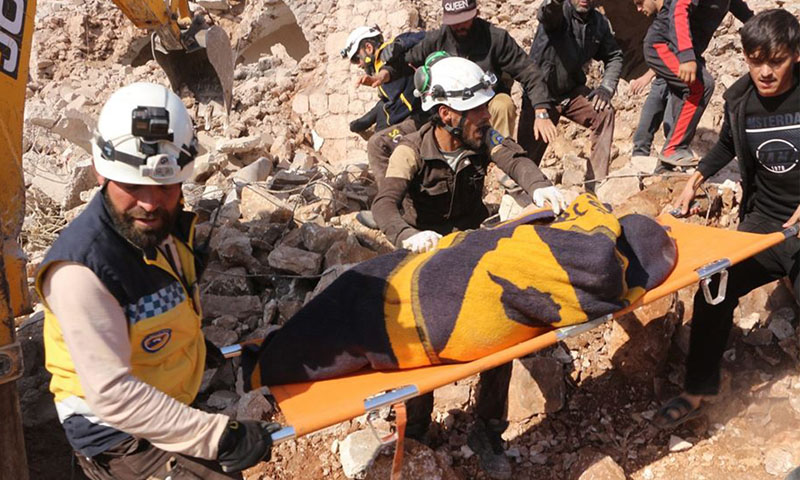 Air raids on a popular market in Maraat al-Numan in Syria's rebel-held Idlib province have killed 11 civilians and wounded at least 20 others.
Enab Baladi's correspondent in rural Idlib quoted medical sources as saying that 11 civilians, including two women, were killed while the number of injuries exceeded 20 on Monday, 2 December.
The death toll is expected to increase because of the severity of some injuries sustained by people who were in the market.
The Syrian Civil Defense (SCD) confirmed on its Facebook page that the SCD documented the deaths of nine civilians.
The Syrian and Russian warplanes targeted the towns and villages of Jarjnaz, Ghadfa, Hass in the province of Idlib, according to the correspondent.
The reconnaissance planes fly above the northern countryside of Idlib including Dana, Sarmada, Hizano and Killi.
Moreover, Russian air raids hit the main market in the city of Sarajib, east of Idlib, led to the death of one civilian and injuries of scores more.
Idlib has witnessed intensive air attacks and bombardments, as the troops of the Syrian regime, backed by Russian air cover try to advance on the axes of eastern countryside of Idlib.
The fighting factions in Idlib, through its news networks, said on 2 December that violent clashes between them and the regime forces are taking place on the axis of the village of Rasm al-Ward in the eastern countryside of Idlib.
Media networks affiliated with the factions, including al-Mohrar and Ebaa pointed out to the death of the commander of the military campaign on the front of the village of Surouj, southeast of Idlib city.
The Syrian Network for Human Rights (SNHR) documented on 1 December the killing of 277 civilians, including 72 children and 32 women; 19 children and 6 women were killed by the Syrian regime forces while 70 civilians, including 26 children and 11 women, were killed by the Russian forces.
Among the victims, according to the report, two medical staff were killed by the Syrian regime forces while one medical staff member was killed in the bombing of an unidentified executor as well as a media worker was killed by the regime forces.
if you think the article contain wrong information or you have additional details Send Correction