Unidentified shelling targeting oil refining facilities in rural Aleppo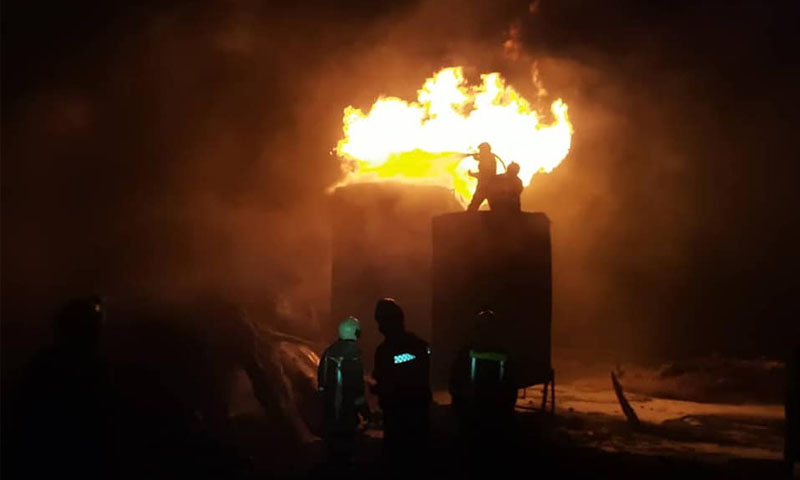 Unidentified warplanes targeted oil refining facilities in the areas of Bir al-Kousa and Tel Shair in the eastern countryside of Aleppo on Monday evening, 25 November.
Enab Baladi's correspondent in rural Aleppo reported that unknown warplanes carried out around nine raids against oil refining facilities in the northern countryside of Aleppo.
Sputnik, a Russian news agency, said that "US F-16 aircraft launched eight air raids on Turkish-affiliated opposition factions in the vicinity of al-Bab city in the north-eastern countryside of Aleppo […] Until now, no verified information is available on the origin of these raids. Nevertheless, local sources in the area confirmed that they were carried out by the warplanes of the US-led coalition."
On the other hand, a media official in the Hamzat division of the Syrian National Army (SNA) told Enab Baladi that the bombing targeted the primitive oil refinery facilities in rural Aleppo, but it did not target any of the headquarters of the division.
The Syrian Civil Defense (SCD) team found on Tuesday, 26 November, the bodies of three people, who were killed as a result of the bombing, in the village of Tarhin in northern region of al-Bab.
The SCD published a video on its Facebook page, showing the consequences of the shelling on the area. SCD teams headed to extinguish the fires in the targeted areas.
The facilities involved in the incident had started as primitive refining facilities and were later turned into major fuel stations. They are considered as the only source of fuel in opposition-held areas. The fuel stations were provided with modern devices for refining oil as well as counters to facilitate the process of selling fuel.
The northern and eastern countryside of Aleppo is under the control of opposition factions currently represented by the Syrian National Army (SNA). The SNA with the support of the Turkish army eliminated the so-called Islamic State (ISIS) during Operation Euphrates Shield in February 2017.
if you think the article contain wrong information or you have additional details Send Correction