Turkish military delegation meets with displaced residents of Tell Rifaat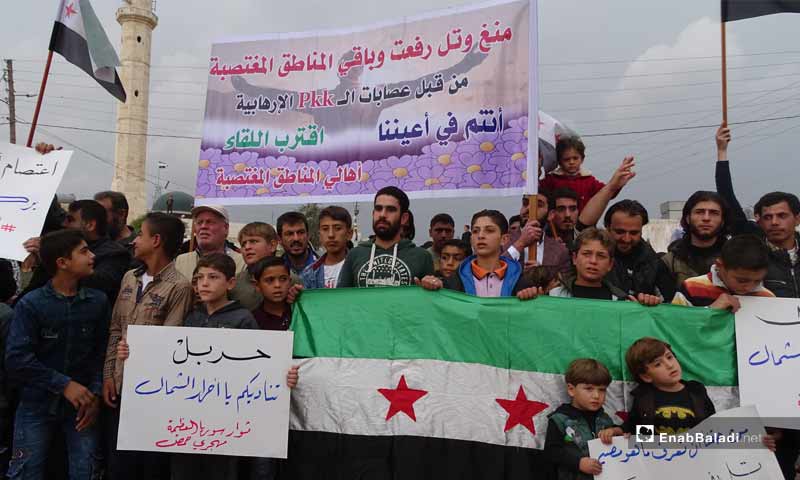 A Turkish military delegation met with the displaced residents of Tell Rifaat in the countryside of Aleppo following the recent Sochi agreement signed with Russia to explain fate of the city after the departure of the Kurdish People's Protection Units (YPG).
Bashir Alito, the head of the political office of Tell Rifaat said that they met with a Turkish military delegation to know the details of the recent agreement with Russia, in light of news about the entry of Syrian regime forces into the city.
Alito, in an interview with Enab Baladi, said that the Turkish delegation clarified that there were no agreements with Russia on the entry of the Syrian regime forces to Tell Rifaat. Turkey agreed only on the full withdrawal of the YPG units. The delegation pointed out that discussions are underway with Russia on the fate of Tell Rifaat, adding that if YGP units did not withdraw from the area, Turkey would take certain actions, similar to the scenario of the city of Afrin, according to Alito.
The displaced group delivered to the Turkish side a message that the entry of Syrian regime forces into their city of origin is unacceptable. None of the former residents, now displaced in northern Aleppo, will agree to settle or return to live under the control of the Syrian regime, according to Alito.
This comes after several demonstrations and sit-ins organized by the city's displaced people in the past days, in the Karaj Sajou Square, near the Bab al-Salam crossing. The activities were organized to demand clarification about the fate of Tell Rifaat from the Turkish side.
One of the demonstrators told Enab Baladi that the sit-in was to request that the Turkish-backed Free Syrian Army, to expel the YPG units from the city and assist the return of displaced people there.
Under the Sochi agreement signed between Russia and Turkey on 22 October 2019, the Syrian Kurdish YPG units are to withdraw 30 kilometers from the Turkish-Syrian border where Turkey and Russia will conduct joint patrols, but without specifying the fate of the cities of Tell Rifaat and Manbij.
if you think the article contain wrong information or you have additional details Send Correction