Syrians on the exodus to Europe again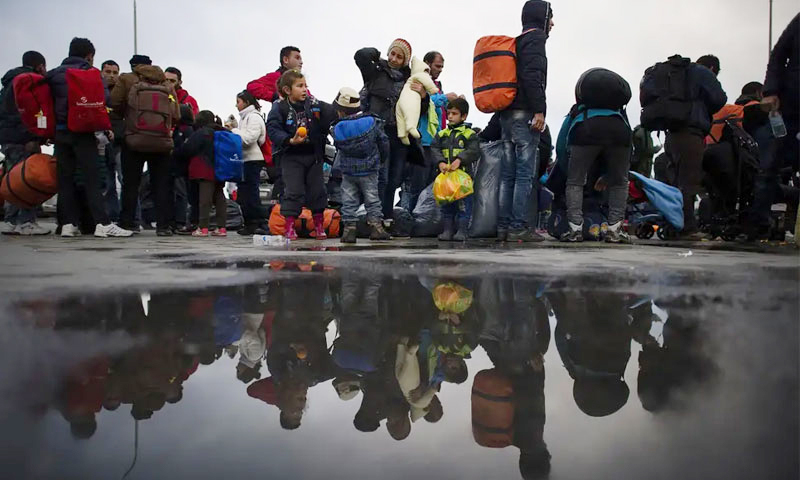 Dozens of people willing to immigrate to Europe are staying in Izmir province's central square of "Basmane", where human smuggling networks dwell, paying whatever it takes, and preparing for an unknown journey with unclear consequence.
Escaping the mandatory military service in Syria, Mohammed, a 40-year-old married man with two children, quit his job in Damascus's Ministry of Finance and headed for Idlib, then entered Turkey illegally, aiming to take the Mediterranean Sea route to get to Europe.
Mohamad, whose full name is withheld by Enab Baladi for security concerns, chose Greece as his first destination and contacted many smugglers.
He said that he chose to get to Greece via the Aegean Sea islands, especially after Turkey threatened to reopen a route for Syrian refugees to reach Europe if it does not receive support for the establishment of the safe zone in the Euphrates region.
Turkey's operations in north-eastern Syria during the past two months, its threats to "open the flood gates" of refugees to Europe, and the ongoing deportation campaigns since July 2019 against those violating laws of temporary protection status, brought back waves of immigration to Europe.
The number of migrants who reached Greece decreased by 90% after 2016, yet the latest developments in Turkey, led to an increase in the numbers of migrants crossing the sea to Greece.
Around 59,448 migrants have arrived to Greece by land and sea, since the beginning of the year, according to the United Nations High Commissioner for Refugees (UNHCR).
Mohamad arrived at Izmir, illegally, by a taxi. And because he didn't have a temporary protection card (Kimlik) he had to pay 1,000 Turkish lira (around 180 USD), instead of the 100 TL it would've cost normally.
"We contact smugglers and traffickers who work in a big network, without meeting or knowing them in person, on a daily basis," Mohamed said, "I think they are directly linked to Turkish mafias."
Mohamad was a victim of fraud, but others appeared to be more experienced and were able to get a better deal, as he paid 1,700 Euros, while others paid 1200 Euros for the same smuggler, to ferry them in a boat to Greece.
Money insurance offices are an important link between the smuggles and potential migrants to Europe and are quite active in Izmir and other Turkish provinces on the migration route.
A refugee deposits the money they need to pay the smuggler in the money insurance office, and pays an additional $50 to the office, then gets a code in return, and delivers the code to the smuggler who takes the money from the office when the refugee makes it to Greece.
More than one attempt
Khaled, a 32-year-old married man with one child, left his family in Istanbul, and chose to cross the sea to reach his European dream, after facing the threat of deportation to the Turkish province of Konya, from which he took his temporary protection card.
Khaled, who preferred to not reveal his full name, says: "Most boats take off from Çeşme in western Izmir. These boats are 8-meter-long inflatable boats, with a maximum capacity of 12 people, yet smugglers cram more than 40 people in it."
Enab Baladi interviewed Khaled before his second attempt to travel. He confirmed that he nearly drowned last time, when the smuggler loaded the boat with 60 people, of which women and children, before rescue teams pulled them out of the water.
Coast guards arrested Khaled in Çeşme detention center, which was "very bad" according to him. "There was no food neither water, nor even a place to sleep," he said. They released him after eight days, and he immediately started planning his next attempt.
Izmir isn't the only route leading to the Greek islands. Other routes start at Aydin, Bodrum, Mugla and Marmaris, yet Izmir is regarded as the "capital of smuggling and trafficking".
The islands of Kos, Chios, Lesbos, Symi and Rhodes are considered to be among the most prominent islands to which boats arrive from Izmir, where refugees are forced to deal with traffickers again, or stay there until they are transferred to land, which takes a much longer time.
Different kinds of inflatable boats
Boats used in smuggling have different kinds and names. Prices also differ from one kind to another. One of the most used boats back in 2015 was the so-called "rubber boat".
Abu Abdo al-Halabi (pseudonym), one of the smugglers in Izmir, told Enab Baladi about the different kinds of boats used in the Turkey-Greece route through the Aegean Sea.
Al-Halabi specified two kinds of boats. The first is a rubber boat and travelling on it costs anywhere from 1000 to 1200 euro. The "modified boat," which costs between 1200 to 1700 euros, is very similar to the rubber boat with the addition of wooden flooring increasing its capacity, in addition to an adjusted steering wheel.
Khaled arrived to Greece in his second attempt, using the modified boat. Mohamad reached Greece via a tourist yacht, which is very expensive (3,000-3,500 EUR), and those willing to travel must wait for days, or even months, before they get the chance to travel.
Al-Halabi points out that some smugglers use "jet boats" which are very fast sports boats, designed for maritime competitions. They were used in smuggling for the first time two years ago, and are very dangerous for families and it costs between 2,000 to 2,800 euros.
Towards western Europe
Some smugglers take advantage of the refugees' desire to reach the Greek Islands at any price. According to al-Halabi, a refugee paid a smuggler to take him to one of the islands on a jet boat but was shocked when he found out that it was a modified boat instead.
Another paid to travel on a modified boat and was taken on a rubber boat, al-Halabi recounted. Sometimes the destination is another avenue for fraud. Al-Halabi recounts the story of someone who had a deal with a smuggler to drop him in the island of Chios, but found out that he was taken to the island of Lesbos, which is considered to be one of the worst islands.
Mohamad and Khaled's next step is to find another smuggler, to help them out to another western European country.
The process of moving to western Europe takes a long time. Mohamad and Khaled might be stuck inside the Greek islands' refugee camps, in difficult conditions, waiting for their next journey.
The overcrowded refugee camps on the Greek islands suffer from lack of services, with increasing numbers of arrivals over the past few months and slow legal procedures for their asylum applications.
The Greek government is imposing progressively more restrictions on these camps and enacting laws to limit refugees' access to its lands, including a law issued on 31 October 2019, that facilitates the rejection of asylum applications and accelerate deportation.
According to this law, police and military personnel interview asylum seekers, and the process of appealing against the rejection and deportation will be more difficult. The government prevented UNHCR staff from re-evaluations and allowed the detention of rejected asylum seekers up to 18 months.
Asylum seekers live in extremely difficult conditions, where the camps have severe shortages of doctors trained under the Greek health care system.
Many human rights organizations criticized the Greek policies regarding refugees, yet Greece is continuing in its effort to complicate the asylum procedures, and to try to limit the access of refugees to its lands under the EU-Turkey agreements.
if you think the article contain wrong information or you have additional details Send Correction