Series of assassinations targeting Syrian regime figures in Daraa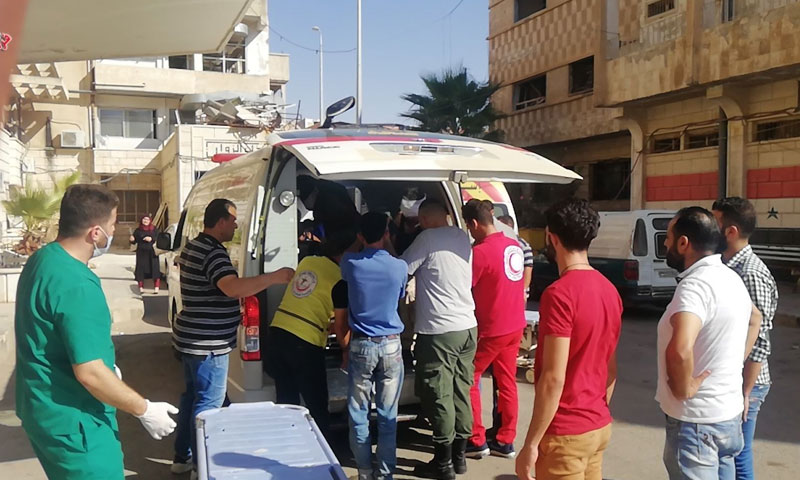 With the escalation of security operations, a series of assassinations took place in the province of Daraa, southeastern Syria, during the past days, targeting several officers and figures of Syrian regime forces.
Enab Baladi's correspondent in Daraa said, on 28 November 2019, that unknown preparators assassinated 5 military and security figures of Syrian regime forces, among which an officer and a military assistant, and a former opposition leader.
Sama TV's correspondent, Firas al-Ahmad said, on his official Facebook page, that a lieutenant in the National Defence Forces (NDF), Riad Abdullah al-Taleb, was shot dead by unknown gunmen at al-Muzayrib center in the western countryside of Daraa, while another accompanying him was injured.
Al-Ahmad said that unknown gunmen, also assassinated chief of Air force Intelligence Detachment, military assistant, Ezeddin Rejeb, in Busra al-Harir eastern Daraa, in an ambush set to shoot him down.
A figure of the military security ranks, called "Abu Ja'afar" was also targeted by unidentified preparators who bombed his car in Daraa's countryside, while his destiny is still unknown until the moment.
A body near al-Muzayrib was found, on 27 November 2019, near the district of Sheikh Miskeen, he was identified as Ahmad Sharaf al-Deiry, a soldier served in the ranks of the regime forces, according to Enab Baladi's correspondent.
Moreover, a former leader of the opposition factions, Waseem Abdullah al-Rawashdeh, was assassinated by unknown preparators yesterday in Tafas town in the western countryside of Daraa, according to local networks.
While and no party claimed responsibility for these assassinations until the moment, a state of military chaos is taking place in Daraa with the daily assassinations of figures said to have dealings with Syrian regime, which failed to control the escalation in the area.
Last week, an attack on the Air force Intelligence checkpoint that's between Gharez district and Umm al-Mayazen in the countryside of the province took place, killing three figures including a captain, and injuring three other figures, according to Sama TV.
Residents of al-A'jami, Tel Shihab, Yadouda, al-Muzayrib and Tafas demonstrated demanding the overthrow of the regime and the exit of Iranian militias from Daraa.
Backed by Russia, Syrian regime forces gained control over Daraa and Quneitra provinces under the "settlement" agreement, in July 2018, after days of bombardments and military reinforcements that forced members of opposition factions to head for northern Syria.
Ever since signing the agreement, a series of assassinations by unknown gunmen have been taking place in the area, and such operations were intensified during the past months, as the authorities failed to limit the chaos that the regime itself is being accused of spreading in the province.
if you think the article contain wrong information or you have additional details Send Correction