Lack of medical staff undermines work of public hospitals in Daraa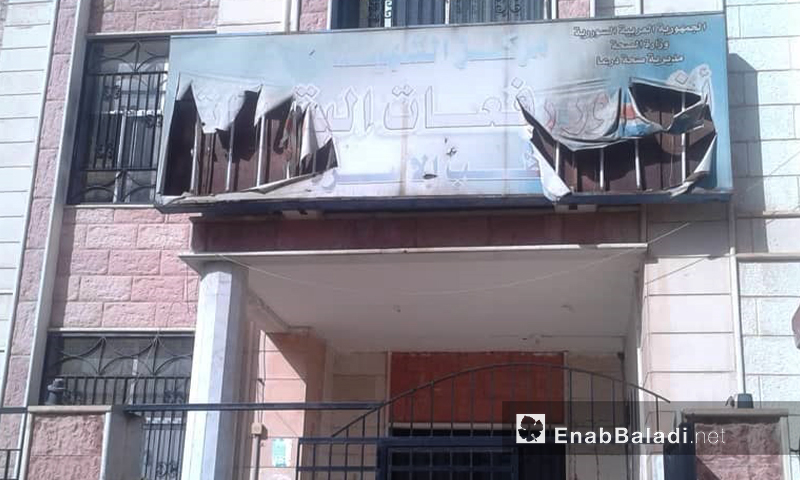 Enab Baladi, Daraa | Daraa's public hospitals are suffering from a severe shortage of medical staff in most specialties. A large number of medical staff have left Syria to other countries and those who chose to stay at the public hospitals are being paid less than those in private hospitals. This shortage in medical staff is also the result of arbitrary dismissal of doctors and nurses for political reasons since the beginning of anti-government protests in 2011.
The Syrian regime forces, with Russian backing, regained control over Daraa in July 2018 through the so-called settlement agreement signed with the opposition factions. As a result, a large number of Daraa's doctors chose to leave for northern Syria or neighboring countries, which negatively affected the medical situation especially in public hospitals.
Claiming unfair dismissal from the National Hospital of Daraa, a nurse spoke on condition of anonymity with Enab Baladi, saying that public hospitals in Daraa do not have enough medical staff, particularly doctors with specialized medical expertise. Doctors preferred to seek refuge in other countries after witnessing fellow doctors who were arrested or killed by sniper fire.
Moreover, the difference in material standards of living between Syria and other countries have played an important role in attracting doctors to leave Syria, according to the nurse.
As an alternative to emigration, some medical staff, including the nurse interviewed by Enab Baladi, were able to reach a security settlement with the regime, chose to remain and work in private hospitals.
There are no accurate statistics on the number of doctors who left Syria or were being arbitrarily dismissed in Daraa.
Preference for private hospitals
Although the public hospitals in Daraa have relatively modern medical equipment, doctors prefer to provide medical care and perform surgeries in private hospitals, due to the high wages offered and the flexibility in working hours.
Um Alaa, a 30-year-old woman from Daraa, told Enab Baladi that she visited a doctor in his private clinic, and he told her that she needed surgery. But he stipulated that he would perform it to her only in the private hospital he was contracted with.
Um Alaa added that the total cost of the operation in the private hospital was 65,000 Syrian pounds (SYP – around 85 USD), noting that her husband's income does not exceed 30,000 SYP (about 40 USD).
What distinguishes private hospitals from public ones is that they offer better care to the patients, without being held up by the bureaucratic red tape associated with public hospitals.
Public hospitals in Daraa are fully equipped for procedures such as CT scans, endoscopies, dialysis, incubators and others. Nevertheless, favoritism means that waiting times for patients can be very long for those without the right connections. Moreover, corruption, low wages of doctors and work inflexibility at the public hospitals negatively impact the performance of medical staff at public hospitals.
The head of Daraa's health directorate, Dr. Bassam al-Hariri, told the state-run Syrian News Channel last March that the dialysis section at Daraa National Hospital was restored and provided with two extra dialysis machines in the past year. Additionally, two more machines devices were extracted from the rubble and two devices were delivered this year as well. The department now has six dialysis machines, according to al- Hariri.
Al-Hariri added that the lack of medical staff at public hospitals—most medical staff have work contracts with private hospitals—and the expeditious completion of medical procedures, good care and treatment, and cleanliness at private hospital, are important factors in the preference of citizens to have operations in private hospitals. Private hospitals, in turn, exploit the need of patients for treatment, by imposing high costs which are not commensurate with their incomes.
if you think the article contain wrong information or you have additional details Send Correction