ISIS makes its voice heard in Daraa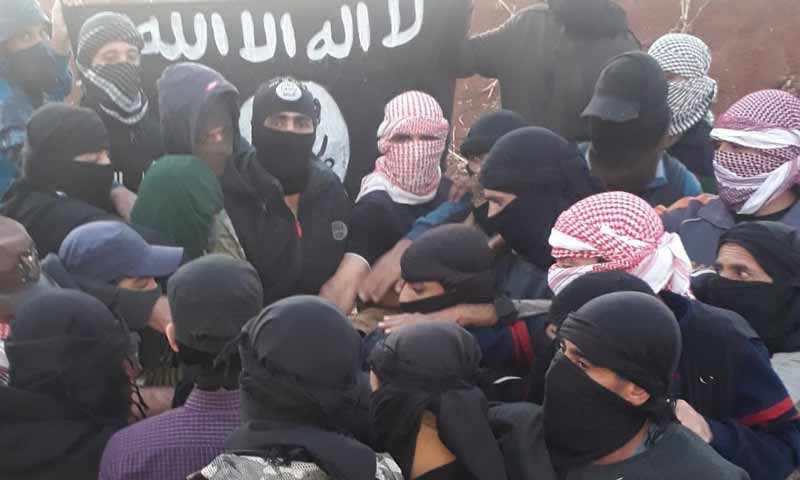 The Islamic State (ISIS) has emerged again in the province of Daraa in southern Syria in the few past hours with two separate announcements.
The first announcement by ISIS claimed responsibility for the assassination of Major Mohammed Aqal Jabbour, the head of the State Security branch of the Syrian regime forces in Enkhel, in the western countryside of Daraa. Jabbour was from the town of Qardaha on the Syrian coast.
According to the statement issued on 5 November and seen by Enab Baladi, ISIS fighters assassinated Jabbour with a pistol.
Hours after the assassination, fighters affiliated with ISIS pledged allegiance to their new leader, Abu Ibrahim al-Hashemi al-Qurashi.
ISIS published photos, seen by Enab Baladi, claiming to show a group of fighters, pledging allegiance to ISIS and its new leader in what they called the state of Horan and Sham.
On 26 October, the United States announced the killing of former ISIS leader, Abu Bakr al-Baghdadi, in an operation carried out in the Barisha area of Idlib countryside. ISIS confirmed the deaths of its leader and his spokesperson, Abu Hassan al-Muhajir, and announced the selection of Abu Ibrahim al-Hashemi al-Qurashi as its new leader.
In August 2018, with support from the Russian air force, Syrian regime forces regained control of the Yarmouk basin area west of Daraa, which was the last stronghold of ISIS. The military operation was conducted with the participation of opposition factions that joined the Russian-sponsored settlement deal with the regime.
The operation ended with ISIS fighters surrendering to regime forces and former-opposition factions. The regime later declared that it had full control over the Daraa province and deployed check points along the Jordanian border and adjacent to the occupied Golan Heights.
Since its decline, ISIS has continued to rely on sleeper cells and lightning attacks, and mines, which have killed dozens of civilians.
if you think the article contain wrong information or you have additional details Send Correction