ISIS claims responsibility for assassination of Armenian Catholic Church pastor in Deir Ezzor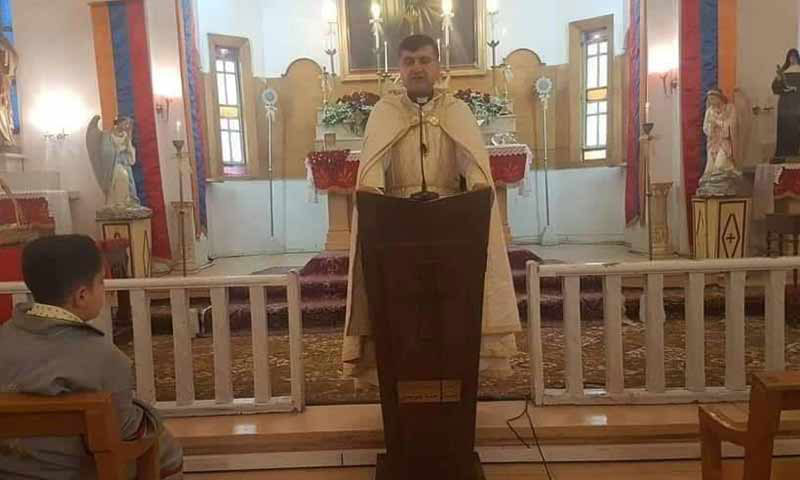 The so-called Islamic State (ISIS) claimed responsibility for the assassination of Hoseib Beidoyan, a pastor in the Armenian Catholic Church, and his father Abraham Hanna Beidoyan, in the eastern countryside of Deir Ezzor.
On Monday, 11 November, ISIS's official media outlet, Amaq, published a statement, seen by Enab Baladi, claiming that ISIS fighters opened fire on Beidoyan's car and killed them in the village of al-Zer in the eastern countryside of Deir Ezzor.
The Euphrates Post, a local network, posted a video shortly after their death showing that the car has a significant damage in the front seats with bloodstains and bullet holes. The attack took place as the two priests were travelling from the city of Qamishli to Deir Ezzor for restoration works at the Armenian Catholic Church in the city.
ISIS operates in the eastern Euphrates region through a network of unconnected cells. These cells carry out assassinations targeting military, civilian and administrative figures. ISIS claims these bombings and security operations through its official media.
ISIS's control of its last stronghold, the town of Baghouz, in the eastern countryside of Deir Ezzor ended in March in a military operation conducted by the Syrian Democratic Forces (SDF) with the support of the US-led international coalition.
Security operations are carried out daily by unknown persons in the provinces of Deir Ezzor, Raqqa and Hasakah. The operations have targeted leaders and elements from the SDF. In addition, there has been assassinations targeting mukhtars, administrators and religious and civil figures.
Glenn A. Fine, Inspector General for the U.S. Department of Defense, warned last July that ISIS would re-emerge if the United States withdrew its troops from Syria. "even though ISIS lost its caliphate in the region, ISIS has reinforced its capacities in Iraq during the current quarter of the year," Fine said.
if you think the article contain wrong information or you have additional details Send Correction