First experiment to manufacture natural compost in Idlib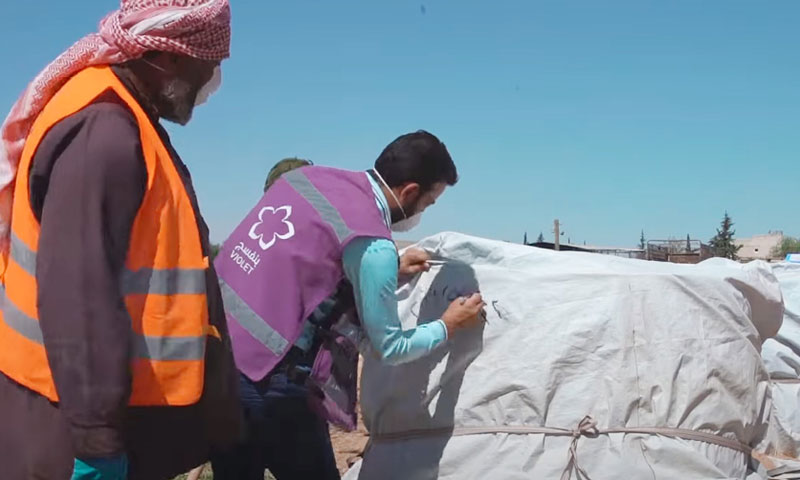 Violet, an organization supporting agriculture in Idlib, conducted an experiment–the first of its kind—to make compost in the city in the context of the Cash for Work project. Violet, in a post on Facebook on 23 October, announced that it succeeded in producing 5.2 million tons of compost, which will be used in agricultural lands and parks.
Violet's livelihood officer, Wasseem Sweid, told Enab Baladi that the project relies on "non-valued" natural substances to make high-quality compost at low cost, contributing to reducing the cost of agricultural production and minimizing its burden on farmers and consumers.
Compost is produced by collecting weeds and animal manure and then stacking them into wire composters. After that, they are moisturized with water and packed tightly until they are ready.
A total of 44 workers benefited from the cash-for-work project, which the organization has been implementing since August, along with other organizations in Idlib, to provide short-term community services and projects.
Sweid said that the organization chose natural compost for its high quality, low-health risks, and its lower costs which would have a positive influence on the prices of agricultural products. He added that the organization has plans to repeat the experiment "which has resulted in huge benefits."
The use of fertilizer in Syria has declined since 2011 due to its limited availability. Sanctions are imposed on the Syrian regime, hindering imports of certain types of fertilizers and other materials that can be used in the manufacture of explosives. The use of fertilizers has also decreased because of its high costs, and the low purchasing power of farmers, with 83% of Syrians suffering from poverty, according to UN estimates.
Agriculture in Syria accounted for 60 percent of the country's Gross Domestic Product (GDP) in 2018, according to the UN Food and Agriculture Organization (FAO) report released on September 5. However, in 2010, agriculture accounted for 18 percent of the country's GDP. Agriculture faces a decline in crop production as a result of the displacement of farmers, the high costs of seeds, fertilizers, fuel and machineries.
if you think the article contain wrong information or you have additional details Send Correction