Difficult conditions for students Kaljibrin village in northern Aleppo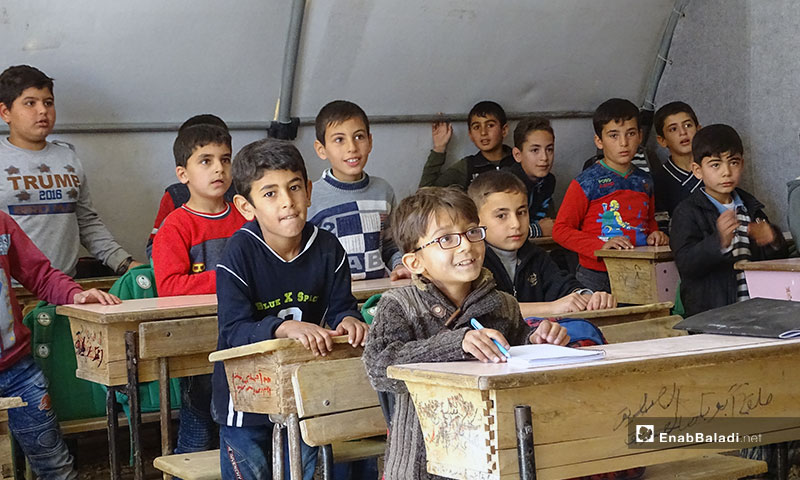 Around 585 students at Kaljibrin elementary school, in north-eastern Aleppo, are facing dire conditions related to the lack of minimum standards for education in the new school year. The classrooms, built into tents, in the school do not have any walls.
The village of Kaljibrin has long suffered from neglect even before the Syrian conflict began in 2011. It used to have only one primary school. Ten years later a middle school was established. The village became congested following the recent waves of displacement. Thus, there was an urgent need to set up a new primary school, even though it was made of tents.
Kaljibrin elementary school tent includes eight classrooms. The school has students from the first grade to the sixth grade. It operates in two shifts with a cadre of 15 teachers and administrators.
Mohammad Abdul Razak, an Arabic teacher, described to Enab Baladi the multitude of challenges that teachers and students in school tents have to cope with including overcrowding and lack of resources among others. Abdul Razak said, "there's a lot of noise which hinders the understanding of lessons. Moreover, the fabric tents do not protect students and teachers from the blazing sun or the cold weather. This consequently limits the focus of both students and teachers." He also indicated that the rain thrashes at the tents and the rainwater runs down benches of students and form muddy swamps.
Lighting in school tents is also one of the challenges faced by students and teachers. A displaced student, Osama Abdullah al-Sun, in an interview with Enab Baladi, said that students cannot close the door of the hangar to prevent cold because it would be too dark.
Al-Sun added that the school does not even have toilets or water sanitation. Students have to leave the tent to use the bathroom.
Abdul Razak said that the situation at the school tents is "unacceptable." Students in the village, who were estimated at about 1200 students, need at least 40 classrooms, but the number of available rooms does not exceed 25.
Abdul Razak indicated that the village of Kaljibrin is in need to build up new schools and complete the construction of classrooms. There are some classrooms not cladded yet and they need maintenance before they are ready.
The United Nations Children's Fund (UNICEF) estimated that 40% of schools in Syria were destroyed or damaged during the eight-year conflict. UNICEF confirmed that more than 2 million children have dropped out of school, with another 1.3 million at risk of dropping out.
if you think the article contain wrong information or you have additional details Send Correction