Demonstrations and attacks against regime in Daraa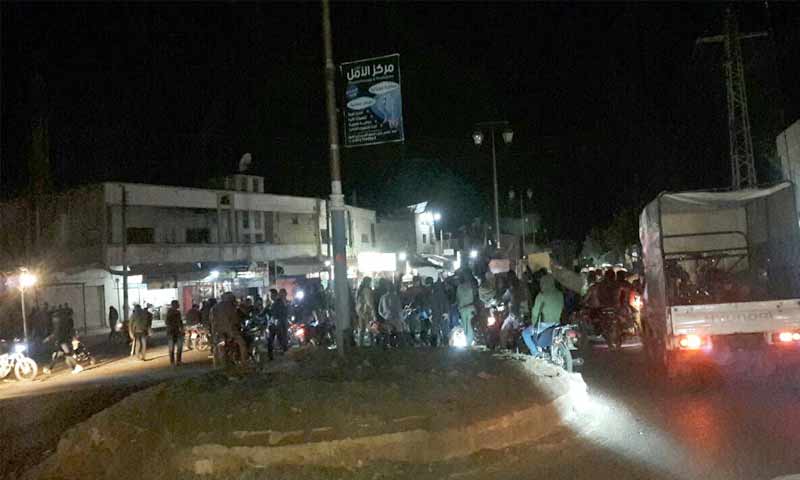 The villages and towns of Daraa countryside witnessed a renewed wave of attacks and demonstrations.  On 12 November, there was an attack on a checkpoint of the Syrian regime forces, coinciding with demonstrations against al-Assad's regime.
According to Enab Baladi's correspondent in Daraa, unidentified gunmen attacked an air force checkpoint, located between the town of Gharaz and the town of Om al-Mayathen in Daraa countryside, killing three soldiers including a captain and injuring others.
The regime did not officially confirm the deaths. However, Firas al-Ahmad, a correspondent for Sama TV, a pro-regime channel, posted on his Facebook page that three members of air-force intelligence were killed and another wounded by unknown armed men in Daraa.
This coincided with the outbreak of demonstrations against the Syrian regime in the towns of al-Ajami, Tel Shehab, al-Yadudah, Muzayrib and Tafas. The demonstrators chanted against the Syrian regime and Iran and demanded the release of the detainees.
Enab Baladi's correspondent pointed out that the demonstrators lowered the flags of the Syrian regime placed in Tel Shehab square and at the entrance of Kharab al-Shahm town.
In the past few days, posters were placed on the walls of schools, mosques and the windows of stores in Tafas, Dael, Muzayrib, al-Shajara, Beit Araa and Tel Shehab, calling for the release of detainees and the withdrawal of Iran and Hezbollah.
The Russia-backed Syrian regime forces regained control over the provinces of Daraa and Quneitra in July 2018 through the so-called settlement agreement. The opposition was forced to sign this agreement and leave for northern Syria after days of bombardment and military reinforcements.
Since signing that agreement, there have been increasing cases of assassinations by unknown gunmen in the area. These assassinations have intensified in recent months, in light of the security failure to reduce chaos and assassinations that the regime is accused of being behind.
if you think the article contain wrong information or you have additional details Send Correction